Car of the Week - Audi A4 Estate 40 TFSI 204ps S Line S-tronic
Published Date: 16th Oct 2023
Introducing the Audi A4 Estate 40 TFSI 204ps S Line S-tronic - our latest Car of the Week!
The Audi A4 Avant has long been a benchmark in the luxury estate car segment, and the latest model is no exception. It's stylish, practical, and technologically packed, making it the perfect choice for discerning estate car buyers.
The 40 TFSI 204ps S Line S-tronic model is powered by a 2.0-litre turbo four-cylinder petrol engine that produces 204bhp and 320Nm of torque. This gives the A4 Avant plenty of power for everyday driving and overtaking while returning fuel economy up to 39.8mpg.
The S Line trim adds a sporty edge to the A4 Avant with a more aggressive body kit, lowered suspension, and 19-inch alloy wheels. The S Line features include sports seats, a three-spoke leather steering wheel, and aluminium pedals.
As standard, the A4 Avant comes with a comprehensive list of equipment, including dual-zone climate control, cruise control, a rear-view camera, and Audi's MMI infotainment system with a 10.1-inch touchscreen display. The S Line model also adds several extras, such as a panoramic sunroof, heated front seats, and a Bang & Olufsen sound system.
The 2023 Audi A4 Estate 40 TFSI 204ps S Line S-tronic is a superb all-round car. It's stylish, practical, and packed with technology. It's also a great performer, with a powerful engine and efficient fuel economy. If you're looking for a luxury estate car with everything, the A4 Avant is the perfect choice.
Why the Audi A4 Estate is the Car of the Week
The Audi A4 Estate is the Car of the Week because it's the perfect all-round Avant-Estate car. It's stylish, practical, packed with technology, and a great performer. It's also one of the most fuel-efficient luxury estate cars on the market.
If you're looking for a car that can do it all, the Audi A4 Estate is the perfect choice. It's the ideal car for larger families, commuters, and business drivers.
Audi A4 Estate 40 TFSI 204ps S Line Key Features:
Door Mirror (Dim/Elec/Fold/Heat)
Electrically adjustable and heated door mirrors.
Conveniently foldable and equipped with an auto-dimming function.
4-Zone Deluxe Air Conditioning
Provides customisable climate control for enhanced comfort.
Anti-Theft Alarm System
Offers added security and peace of mind.
Electrically operated for easy opening and closing.
Central Locking System "Keyless-Go"
Convenient and secure keyless entry.
Advanced digital display for comprehensive information.
Offers high-quality navigation assistance.
Provides a range of connected services for navigation and infotainment.
Aids in precise parking with audio and visual guidance.
Enhances safety by alerting about unintended lane departures.
LED Headlights
Energy-efficient and powerful illumination for safer driving.
It adds an element of privacy while improving the vehicle's aesthetics.
Designed for comfort and support during spirited driving.
Ensures warmth and comfort during colder seasons.
Dashboard Accent in Black Glass
It adds a sleek and sophisticated look to the interior.
Inlays, Matt Brushed Aluminium
Enhances the interior with a modern and premium finish.
Leather-Wrapped Multi-Function Sports Steering Wheel
Provides a comfortable and sporty grip.
LED Interior Lighting Pack
Illuminates the interior with energy-efficient LED lights.
Elegant Design, Avant Style:
The Audi A4 40 tfsi S-Line Avant exudes sophistication with its sleek lines and refined contours. This estate model offers timeless elegance and the added versatility of extended cargo space. Choose from a range of body colours to match your taste.
Dynamic Performance, Avant Capability:
Under the bonnet of the Audi A4, 40 tfsi S-Line Avant lies a robust 2.0-litre engine that seamlessly combines power with efficiency. This Avant variant delivers a spirited drive while maintaining excellent fuel efficiency, achieving up to [insert mpg range] combined.
Cutting-Edge Technology, Avant Convenience:
The Audi A4 40 tfsi S-Line Avant has a suite of advanced tech features. The intuitive infotainment system, compatible with Apple CarPlay and Android Auto, ensures seamless connectivity. Complementing this is a digital instrument cluster and a high-quality sound system for an immersive driving experience.
Safety at its Core, Avant Assurance:
Safety is paramount in the Audi A4 40 tfsi S-Line Avant. It comes loaded with state-of-the-art safety features, including auto emergency braking, lane departure warning, lane keeping assist, and blind spot monitoring, providing peace of mind for you and your passengers.
Spacious and Versatile, Avant Adaptability:
Inside the Audi A4 40 tfsi S-Line Avant, you'll find a generously proportioned cabin with ample room for passengers, pets, and cargo alike. The rear seats are easily foldable, expanding the cargo space and accommodating larger items easily.
Exceptional Value, Avant Excellence:
The Audi A4 40 tfsi S-Line Avant offers outstanding value for those seeking a blend of luxury, performance, and safety in an estate model. Its well-rounded features and comprehensive warranty underline its commitment to delivering a premium driving experience.
The Audi A4 40 TFSI S-Line Avant is a distinguished choice for discerning individuals seeking a small luxury estate car. Its combination of refined design, dynamic performance, advanced technology, and a strong emphasis on safety is a testament to Audi's commitment to excellence.
Click the link below
Dynamic Powerhouse: The AUDI A4 Avant 40 TFSI S-Line is driven by a robust 2.0-litre engine, delivering a commanding 150 kW (204 PS) between 4,475 and 6,000 rotations per minute. With an impressive torque of 320 Nm available between 1,450 and 4,475 RPM, this Avant model effortlessly combines power and performance.
Effortless Acceleration: This powerhouse accelerates from 0 to 62 mph in just 7.3 seconds, demonstrating its lively nature on the road. With a top speed of 146 mph, the A4 Avant 40 TFSI S-Line offers an exhilarating driving experience.
Precision Engineering: Weighing in at 1,610 Kg unladen, the A4 Avant strikes an optimal balance between performance and efficiency. It boasts a gross weight limit of 2,140 Kg, ensuring stability and control in various driving conditions.
Versatile Cargo Space: The A4 Avant 40 TFSI S-Line offers a spacious luggage compartment with a capacity of 495 litres, expandable to an impressive 1,495 litres when the rear seats are folded. This versatility makes it ideal for various cargo needs.
Efficiency Redefined: Despite its powerful performance, the A4 Avant 40 TFSI S-Line demonstrates impressive fuel efficiency, achieving a combined consumption of 38.2–40.4 mpg. With CO2 emissions ranging from 158 to 168 g/km, it is a commendable choice for eco-conscious drivers.
Superior Handling: The A4 Avant 40 TFSI S-Line is designed to deliver a dynamic and controlled driving experience. A top-grade Super 95 fuel requirement ensures optimal performance and efficiency.
The AUDI A4 Avant 40 TFSI S-Line is a testament to precision engineering, combining power, efficiency, and versatility in one impressive package. It offers a driving experience that is both exhilarating and environmentally conscious, making it a standout choice in the Avant segment.

AUDI A4 Avant 40 TFSI S-Line Performance
Embodying the essence of dynamic excellence, the Audi A4 Avant 40 TFSI S-Line boasts impressive performance figures:
Displacement, cc: 1984
Max. Output, kW (PS) at RPM: 150 kW (204 PS) at 4,475 - 6,000 1/min
Max. Torque, Nm at RPM: 320/1450 - 4475
Top Speed: 146 mph
Acceleration 0-62 mph: 7.3 Seconds
This impeccable fusion of power and precision ensures that the A4 Avant 40 TFSI S-Line delivers a spirited driving experience, making it an exceptional choice for those who appreciate performance without compromise.
Engine Details
Fuel type: Petrol, Engine capacity - cc: 1984, Cylinder - configuration: 4 Cylinder in line, Max. Torque - Nm: 2,314, Drive train: FWD, Max. Engine power - bhp: 201, Emission Level: EURO 6, Acceleration 0 - 62 mph: 7.3 Seconds Max. Speed - mph: 146, Transmission type: Automatic.
Safety & Security
The Audi A4 Avant prioritises your safety with a comprehensive array of advanced features. These key safety components include:
6-Airbag System: The A4 Avant is equipped with a sophisticated airbag system, protecting the driver and passengers in a collision.
ABS (Anti-lock Braking System): This system prevents the wheels from locking up during hard braking, enhancing control and reducing the risk of skidding.
Anti-Theft Alarm: The alarm system is a deterrent against theft and vandalism. It activates if a door or window is opened without the correct key or if the vehicle is moved without the key in the ignition.
Attention and Drowsiness Assist: This system monitors your driving behaviour for signs of drowsiness or distraction, providing visual and audible warnings if necessary.
Audi Pre-Sense City: This advanced system uses sensors to detect potential collisions in city traffic scenarios, providing warnings and even applying emergency braking if needed.
Camera-Based Traffic Sign Recognition: The system employs cameras to identify and display road signs, helping you stay informed about speed limits and other important traffic information.
Front Passenger Airbag with Deactivation Switch: Allows for the deactivation of the front passenger airbag when required.
Lane Departure Warning: This feature alerts you as you inadvertently drift out of your lane, helping to prevent potential accidents.
Multi-Collision Brake Assist: In the event of a collision, this system engages the brakes to help prevent further impacts.
Pop-Up Bonnet for Pedestrian Protection: In the unfortunate event of a collision with a pedestrian, the bonnet is raised to provide additional protection.
Space-Saver Spare Tyre: In case of a flat tyre, the space-saver spare tyre provides a temporary solution, allowing you to reach a service station or tyre shop for repair or replacement.
Transponder Immobiliser: This system ensures the vehicle cannot be started without the correct key, acting as an effective theft deterrent.
These amazing safety features in the Audi A4 Avant are meticulously designed to provide comprehensive protection for you and your passengers. They not only help mitigate the effects of accidents but also work to prevent them in the first place, making the A4 Avant a reliable choice for safety-conscious drivers.
Audio & Communication
The Audi A4 Avant offers a cutting-edge audio and communication system designed to keep you connected and entertained on the road. Here are the key features:
1 - 8 Passive Loudspeakers:
Deliver a powerful and clear audio experience.
2 - Audi Connect Navigation/Infotainment Services (36-month subscription):
Connects your Audi to the internet, providing access to entertainment, information, and search functions via MMI control panel, multi-functional steering wheel, or voice control.
Features HD Lanes for precise lane guidance on motorways.
Access Points of Interest and view high-resolution aerial and satellite images from Google Earth™.
High-speed internet access enables real-time information like flight times, fuel prices, weather, and other third-party services.
Audi Smartphone Interface and Voice Control*:
Seamlessly integrates your smartphone for convenient access to apps and functions.
Voice control provides hands-free operation for various features.
3 - Bluetooth Interface and DAB Digital Radio Reception:
Bluetooth connectivity enables music streaming and hands-free calling from your smartphone.
DAB reception offers superior sound quality and reception compared to traditional FM radio.
4 - Email, Calendar, and Text Message Integration:
Display important notifications and messages directly on your MMI interface.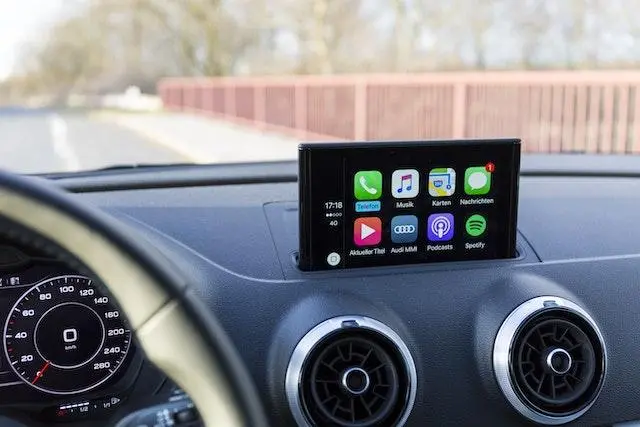 5 - MMI Navigation Plus with MMI Touch:
A high-resolution 10.1" colour MMI display provides a clear and intuitive interface.
Country-specific information provides legal regulations for your travel destination, such as speed limits and required equipment.
Detailed route information, including map preview, alternative routes, points of interest, lane recommendations, and more.
Dynamic route guidance with traffic updates (requires Audi Connect Infotainment Services for online traffic information).
MMI search allows for free text entry with intelligent suggestions.
The touch-sensitive control panel allows for fast and precise operation, including handwriting recognition and the ability to move and zoom on the map freely.
6 - Premium Sound System:
Eight passive loudspeakers deliver a powerful and clear audio experience.
7 - USB Charging Ports:
Two USB ports ensure that your devices stay charged and ready.
8 - Audi Virtual Cockpit:
An innovative 12.3" full-colour digital instrument cluster customises information for the driver's needs.
Displays vehicle/engine speed, 3D navigation map, Audi Connect Infotainment Services, radio/media information, and driver assistance systems.
Integrates all MMI functionalities, including phone and car settings. Allows for two differently sized representations of the instrument dials.
Please note that a myAudi account and the Audi MMI Connect app are required for certain features.
Features marked with an asterisk (*) are subject to compatibility and may require specific configurations.**
Click the link below
Audi A4 Avant S-Line: Elevating Luxury to New Heights
The Audi A4 Avant S-Line represents the pinnacle of luxury in a premium estate car. Crafted with meticulous attention to detail and boasting an array of premium features, this model caters to discerning drivers who seek nothing short of excellence.
Refined Comfort and Elegance
Step into the A4 Avant S-Line and discover an interior designed for luxury and relaxation. The sumptuously supportive front seats and electrically adjustable lumbar support ensure enduring comfort during extended journeys. Wrapped in fine leather, the steering wheel exudes sophistication, complemented by the head-up display that adds an extra layer of luxury. Thoughtfully integrated smart storage solutions and features like illuminated vanity mirrors and ambient lighting further elevate the experience, seamlessly blending convenience with refined aesthetics.
Cutting-Edge Technology
The A4 Avant S-Line boasts a suite of advanced tech that enhances the driving experience and prioritises safety. Intelligent driver assist systems, including adaptive cruise with lane departure warning, work harmoniously to keep you secure and focused on the road ahead. The intuitive infotainment system offers a seamless interface with an array of connectivity options, including seamless integration with Apple CarPlay and Android Auto.
Comprehensive Safety Measures
Safety takes centre stage in the A4 Avant S-Line, with an extensive suite of features dedicated to safeguarding you and your passengers. Pedestrian detection, pre-collision assist, and post-collision braking provide layers of protection. Further enhancing security is the Thatcham alarm system, offering an additional level of peace of mind.
The Audi A4 Avant S-Line is a testament to the fusion of performance, efficiency, and unmatched luxury. It caters to drivers seeking a dynamic, sporty estate car that upholds practicality and economy.
Elevate your driving experience with the Audi A4 Avant S-Line, Where luxury meets uncompromising performance on the road.
Customer Reviews and Testimonials
Don't just take our word for it; we have over 700 positive reviews on Trustpilot and are adding new reviews to our Google Account weekly. Hear from satisfied uk car discount customers:
We have stock cars available for immediate delivery on the new 73 Registration Plate - be quick, as stock is limited!
Find out more by clicking the link: Audi A4 Estate 40 TFSI 204ps S Line S tronic 73 Reg - 2024 Deal (uk-car-discount.co.uk)
UK CAR DISCOUNT GUARANTEE:
MAIN DEALER-SUPPLIED VEHICLE
FULL MANUFACTURER'S WARRANTY
FREE HOME DELIVERY
(Some Scotland postcodes incur a surcharge - ask for details)
CAR FIRST POLICY - PAY FOR YOUR VEHICLE AFTER DELIVERY/INSPECTION.
If you are looking for a new car, you might wonder where to start your search. With so many options available, finding the right vehicle for you can be overwhelming. You should consider joining thousands of other uk new car buyers by buying your next car from the UK Car Discount.
At UK Car Discount, we offer a range of high-quality vehicles from many reputable manufacturers, and all of our cars are mainly dealer-prepared and supplied. This means you can rest assured of getting a genuine, top-quality vehicle. In addition, all of our cars come with the full manufacturer's warranty, giving you peace of mind that you are covered if anything goes wrong.
We understand that buying a car can be a significant investment, so we offer free home delivery for most parts of England and Wales. This means you can avoid travelling to a dealership and have your new car delivered straight to your door. Plus, you can inspect your vehicle before paying for it, ensuring you are completely satisfied with your purchase.
At UK Car Discount, we are committed to providing the best possible service to our customers. That's why we offer our UK Car Discount Guarantee, which ensures you get our best possible price for your new car.
In summary, when you buy your next New Car from UK Car Discount, you will be assured that you are getting a high-quality vehicle at the best price available, with the added convenience of free home delivery and the security of the full manufacturer's warranty.
Call us today at 0161 946 3500 to discuss how we can help you with your next New Audi A4 Avant.
**Please note that Audi vehicle specifications, trim levels, options, and engines are subject to change anytime. Therefore, confirming the vehicle specifications you are interested in when you purchase is important. Vehicle manufacturers also reserve the right to change specifications without notice.