Alfa Romeo 33 Stradale – A Thing of Beauty
Published Date: 19th May 2015
The Alfa Romeo 33 Stradale is a mid-engined sports car built by Italian car manufacturer Alfa Romeo in 18 examples between 1967 and 1969.
As you can see, it is very pleasing on the eyes. With only 18 dotted around the world, it is one of the most sought after classic cars available today.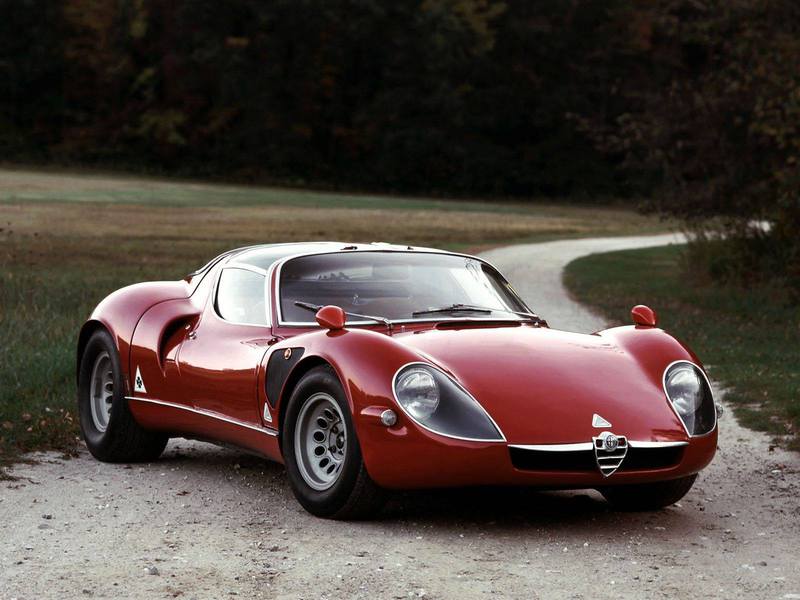 The 33 Stradale, first built in 1967, was based on the Autodelta Alfa Romeo Tipo 33 racing car. The car, designed by Franco Scaglione, and built by Carrozzeria Marazzi, made its debut at the 1967 Turin Motorshow.
The car was introduced at the Sport Car Show at Monza, Italy in September 1967. Only 18 have been made. The prototype was sold to private Gallery Abarth, Japan, a magnesium bodied Stradale replica built in late 1970s and the five concept cars are now part of the Alfa Romeo Museum.
Alfa Romeo 33 Stradale Performance
The car takes 5.5 seconds to reach 60 mph from a standing start and has a top speed of 160 mph. In 1968 it was the fastest commercially available car over a standing kilometre with a time of 24.0 seconds. Similar performance cars on that time were all using twice the Stradale`s cylinder capacity, the Lamborghini Miura, Ferrari Daytona and Maserati Ghibli.
Alfa Romeo 33 Stradale Key Specs
Price: £7,000,000+
Engine: 2.0-litre V8
Power: 230bhp
Transmission: Six-speed manual
0-60mph: 5.5 seconds
Top speed: 160mph
On sale date: 1968
Kerb Weight: 700kg
Alfa Romeo 33 Stradale Price
The Alfa Romeo 33 Stradale is very rarely traded; this means their value is very hard to estimate. At the 2015 Detroit Auto Show, while presenting the Alfa 4C Spider, Alfa's Head of North America estimated the current market value of the 33 Stradale at "well over $10 million".