Ford Fiesta Active X Model
Published Date: 20th Sep 2018
New Ford Fiesta Active X:
The ever-evolving Ford Fiesta (mark VII) now has an Active version that attempts to take the Fiesta platform add a hint of SUV style and substance to jump on the bandwagon of the compact higher up crossover vehicles such as the Nissan Juke or Renault Captur. It is clear Ford are trying to broaden the appeal of the hugely successful Ford Fiesta by retaining the characteristics of the original vehicle but adding the essence of a small or compact SUV vehicle.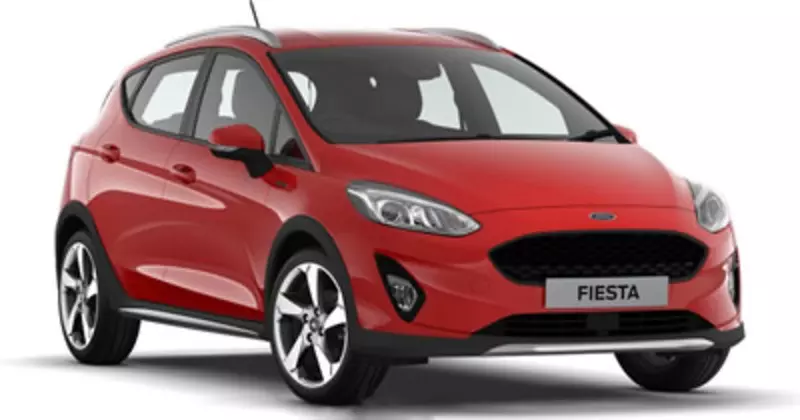 It rides a little bit higher than the standard Ford Fiesta (1.8 CM) and aims to take the existing character of the original Ford Fiesta model without compromising the comfort and driving fun by including a unique suspension and damper set up which makes adjustments to the steering and traction control in order to positively handle more demanding road surfaces namely SLIPPERY or "Rough Road Suspension".
The Fiesta Active is a practical option if you live in an area with poor road surfaces or are a little off the beaten track as customers who have been ordering it tend to live in rural areas but need a compact vehicle with all the creature comforts. The drive characteristic from the perky petrol engines still manages to make the Fiesta Active feel agile and enjoyable to drive and it will win over many customers who test drive it on this alone but add the moulded wheel arches and the cosmetic skid plates and you enhance the already winning formula.
The top of the range Fiesta Active X model adds power-folding door mirrors, part leather and heated front seats, electronic automatic temperature control (EATC), Ford's Key Free System, rear parking sensor and rear-view camera.
Colours available: Solid: Race Red, Special Solid: Frozen White Metallic: Chrome Blue, Magnetic, Moondust Silver, Shadow Black, Special Pearl: Blue Wave, Luxe Yellow, Ruby Red, Silver Fox.
We have some excellent offers on the Ford Fiesta, including the Active X and you can compare specs and deals on the full range of new Ford Fiesta models here.
Key Features:
Higher Ground Clearance 18mm or almost 2 cm.
Latest version is the 7th version.
Fiesta Active: Three Driving Modes – Normal, Eco and Slippery.
Plastic Wheel Arch Covers.
Skid plates – a cosmetic version.
All Fiesta Active models meet the EU6.2 testing standards.