Renault Clio RS Line Auto - Car of the Week!
Published Date: 16th Nov 2023
Welcome to UK Car Discount, where we take immense pleasure in presenting the extraordinary Renault Clio RS Line. With its powerful engine and sporty features, this sleek and stylish vehicle is designed to ignite your passion for driving. Starting at an enticing £22,217, it offers exclusive savings that make it even more irresistible.

But that's not all! With such a large purchase, we understand the importance of online safety, so we offer free home delivery across most parts of England and Wales. No need to worry about picking up your new car - we'll bring it right to your doorstep. And to ensure your complete satisfaction, we give you the flexibility to inspect and pay for your vehicle upon delivery. It's all about making the car-buying process as smooth and enjoyable as possible.
So why wait? Experience the thrill of driving the New Renault Clio RS Line and enjoy the added convenience and peace of mind that comes with our exceptional services. Visit UK Car Discount today and let us help you find your perfect ride.
RENAULT CLIO OFFER
RENAULT CLIO HATCHBACK 1.6 E-TECH HYBRID 145 RS LINE AUTO
UK CAR DISCOUNT OFFER: £22,217
RENAULT RRP: £23,895
SAVING OFF MRRP: £1,678

Unveiling Innovation: Renault Clio 1.6 E-Tech Hybrid 145 RS Line Auto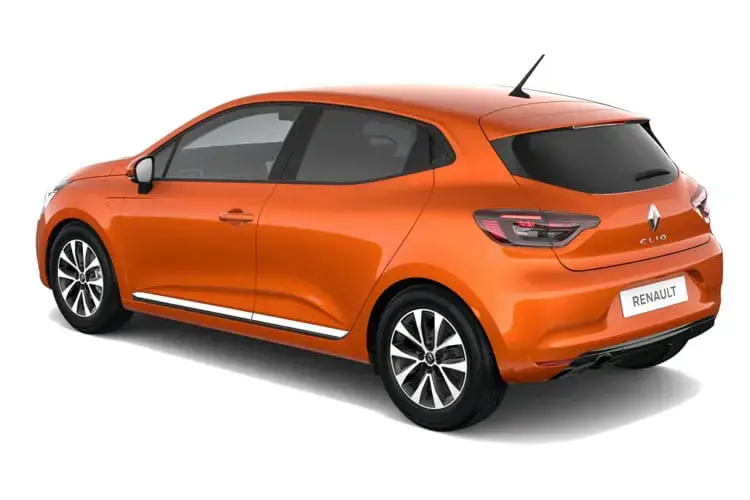 Experience the pinnacle of design and technology with the Renault Clio 1.6 E-Tech Hybrid 145 RS Line Auto, a true masterpiece in the realm of high-quality compact hatchbacks. From its sleek and aerodynamic body, meticulously crafted to enhance performance and fuel efficiency, to the automatic headlights and windscreen wipers that effortlessly adapt to changing weather conditions, every detail has been thoughtfully considered to set a new standard for modern driving aesthetics. Get ready to embark on a journey where style meets innovation, and every drive becomes an extraordinary experience.
Luxurious Interior: A Haven of Comfort and Convenience
Step into a spacious, meticulously designed interior where ultimate comfort and convenience converge to create an unrivalled driving experience. Sink into the plush Evolution Grey fabric seats, perfectly complemented by the soothing ambience of automatic air conditioning. Navigate effortlessly with the intuitive 7" Easylink touchscreen, which provides seamless navigation and allows smartphone replication for a truly integrated and connected journey. Get ready to redefine your driving experience; every moment behind the wheel becomes an absolute pleasure.
Safety Redefined: Advanced Driving Assistance at Your Fingertips
Equipped with cutting-edge safety features, including a manual parking brake, emergency call system, lane-keeping assist, and traffic sign recognition, the Renault Clio ensures a safe and confident driving experience. Whether navigating city streets or going on a road trip, this remarkable vehicle combines style, performance, and cutting-edge technology.
Your Journey Awaits: Explore the Renault Clio Today!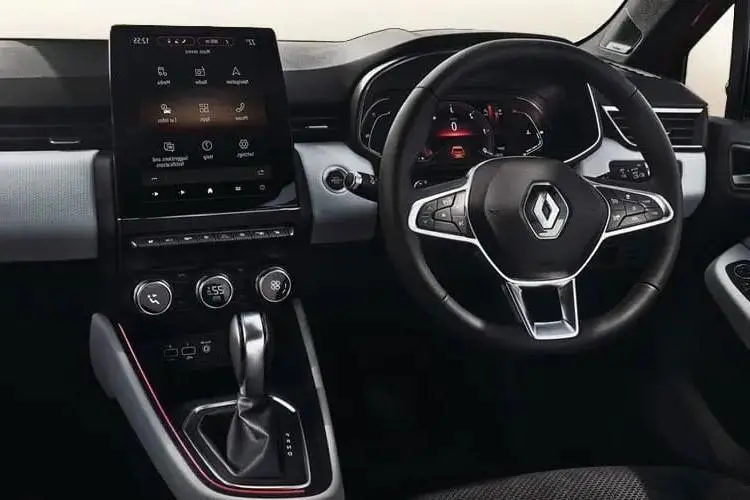 Dedicated to providing you with an exceptional offer, UK Car Discount invites you to explore the Renault Clio and embark on a journey defined by performance and savings. With us, your adventure commences with a significant discount, ensuring you hit the road in style with extra money in your pocket. Visit our website today at www.uk-car-discount.co.uk and let the journey begin with the Renault Clio – where sophistication meets innovation.
Engine:
Immerse yourself in the heart of the Renault Clio, where cutting-edge innovation seamlessly blends with exceptional performance. Experience the power and thrill of the robust and highly efficient 1.6 engine, meticulously designed to ignite your everyday driving experience and add an extra touch of exhilaration to every journey you embark on. Get ready to embrace a new level of driving pleasure and unleash the true sparkle of the Renault Clio.

Engine Specifications:
Engine Size:

1,598cc

Engine Configuration:

4 Cylinder In-Line

Drive Type:

Front Wheel

Transmission:

Automatic

Number of Gears:

6

Fuel Type:

Hybrid Petrol

Fuel Delivery:

Turbo

Fuel Tank Size:

39 litres
The 1.6-litre, 4-cylinder in-line engine of the Renault Clio, combined with its hybrid petrol technology, ensures a seamless blend of power and efficiency. With a turbocharged fuel delivery system, this dynamic engine is not just a powerhouse but a testament to Renault's commitment to cutting-edge automotive engineering.
Experience the thrill of acceleration, the precision of torque, and the efficiency of hybrid technology as you confidently navigate UK roads. The Renault Clio's engine is more than a mere component; it's the driving force behind an exceptional driving experience.
Performance Details: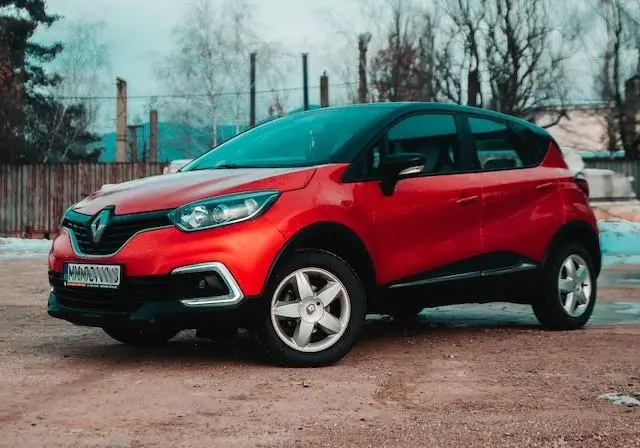 In the heart of the Renault Clio lies a cutting-edge 4-cylinder in-line engine, flawlessly integrated with advanced hybrid petrol technology. This seamless combination delivers an optimal blend of power and efficiency, ensuring an exhilarating driving experience. With its swift and responsive 6-speed automatic transmission and front-wheel drive, the Clio effortlessly showcases its dynamic performance on any road.

Experience the perfect fusion of power and precision as you accelerate from 0-62mph in just 9.3 seconds. Feel the impressive torque and revel in the remarkable top speed, further underscoring the Clio's prowess and promising a driving experience beyond the ordinary. Prepare to embark on exciting journeys and immerse yourself in the unmatched sophistication of the Renault Clio.
Performance Dynamics:
0-62mph: 9.3 seconds

Drive Type: Front Wheel

Engine Configuration: 4 Cylinder In-Line

Fuel Type: Hybrid Petrol

Number of Gears: 6

Transmission: Automatic
Interior:
Inside, the Renault Clio offers a compact yet spacious and comfortable environment. Ample room is available for passengers in both front and rear, and the boot provides generous storage capacity for such a small car.
Standard features include:
2xUSB 1xJack

4x20W Amplifier FM

9.3in Touchscreen Navigation

Bluetooth

DAB Double Tuner

Driver-Assistance Systems:
Equipped with an array of standard Driver Assistance features, the Clio E-Tech ensures a safe and pleasant driving experience. ADAS Systems include:
ABS With Emergency Brake Assist.

Lane Departure Warning - LDW

Lane Keeping Assist - LKA

Traffic Sign Recognition.

Over Speed Warning / Distance Warning alert.
Safety Features:
ABS With Emergency Brake Assist:

Anti-lock Brakes with Electronic Brakeforce Distribution (EBD) and Brake Assist work together to maintain steering control during emergency braking, enhancing safety.

Front Airbags:

Airbags positioned in the front of the vehicle are designed to protect you in a collision.

Front Driver Airbag:

Specifically designed airbag to protect the driver in case of a collision.

Front Passenger Airbag:

Dedicated airbag for the front-seat passenger, ensuring their safety in a collision.

Lane Departure Warning - LDW:

A system that alerts the driver if you drift out of your lane, promoting safe driving.

LKA-Lane Keep Assist:

Lane Keep Assist gently corrects steering to keep the vehicle within its lane, contributing to safer driving.

Over Speed Warning / Distance Warning Alert:

Notifies the driver of exceeding a preset speed limit or maintaining a safe following distance, promoting responsible driving.

R.A.I.D-Renault Anti Intruder Device:

An advanced security system designed to prevent unauthorised access to your vehicle, enhancing theft protection.

Side Head Curtain Airbags:

Airbags that deploy from the vehicle ceiling to protect occupants' heads in case of a side collision or rollover.

Spare Tyre: Puncture Repair Kit:

Instead of a traditional spare tire, this kit helps repair minor punctures, providing a quick solution to get back on the road.

Thatcham Category 2 Approved Immobiliser:

An immobiliser system approved by Thatcham is designed to prevent the vehicle from running without the correct key or fob.

Traffic Sign Recognition:

Recognises and displays important traffic signs, such as speed limits, on the vehicle's display, promoting adherence to road regulations.
These Renault safety features work together to enhance the vehicle's overall safety and provide added peace of mind for drivers and passengers.

Exterior Features:
17in RS Diamond Cut Alloy

High-Level Brake Light

LED Front Fog Lights

Number of Doors: 5

Rear Park Assist + Front Parking Sensor

Rear View Camera

Remote Central Locking

Start and Stop Function
Interior Features: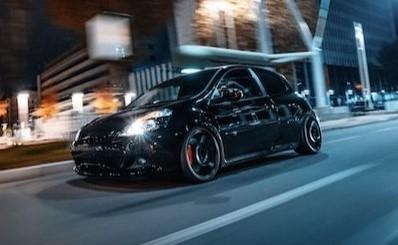 3 Rear Headrests

60:40 Split Rear Seats Fixed Base

Auto Climate Control

Boot Space: 10.56 cu ft (299 litres)

Cruise Control With Speed Limiter

Driver and Passenger Mechanical Seat

Driver Mechanical Height Adjust

Electric Windows - Front And Rear

Height And Reach Adjustable Steering Wheel

Number of Seats: 5
Mechanical Highlights:
ESC + ETC

Front Brakes: VENT DISC

Front + Rear Suspension

Rear Brakes: VENT DISC

Start and Stop

Variable Assistance Electric Power Steering
Customer Reviews and Testimonials
But don't just take our word for it. We're proud to share that we've collected over 700 glowing reviews on Trustpilot, a leading platform for customer feedback. These reviews come from satisfied customers who have experienced the exceptional service and savings that UK Car Discount offers. We consistently add new reviews to our Google Account, further showcasing our customers' positive experiences. Discover what our delighted customers have to say about their UK Car Discount experiences and join the ranks of those who have saved thousands on a new car and received top-notch service.
We have stock cars ready for immediate delivery, all featuring the new 73 Registration Plate. But hurry, as stock is limited!
UK CAR DISCOUNT GUARANTEE
You're guaranteed our best possible price for your new car.
MAIN DEALER SUPPLIED VEHICLES
Our vehicles are sourced directly from main dealers.
FULL MANUFACTURER WARRANTY
Enjoy complete peace of mind with full manufacturer coverage.
FREE HOME DELIVERY SERVICE
(Some Scotland postcodes may incur a surcharge - please ask for details)
CAR FIRST POLICY
You pay for your vehicle only after delivery and inspection.
If you're in the market for a new car, it's only natural to feel overwhelmed by the multitude of options. That's where UK Car Discount comes in. Join the thousands of UK New Car Buyers who've found their perfect vehicle through us.
At UK Car Discount, we offer an array of high-quality vehicles from renowned manufacturers. Each car is meticulously prepared and supplied by trusted main dealers, guaranteeing a genuine top-tier vehicle. What's more, all our cars come with the full manufacturer's warranty, providing peace of mind should anything ever require attention.
We understand that purchasing a car is a substantial investment. That's why we extend the convenience of free home delivery to most parts of England and Wales. Say goodbye to the hassle of dealership visits - have your new car delivered straight to your doorstep. Rest assured, you'll have the chance to inspect your vehicle before finalising the payment, ensuring complete satisfaction with the purchase.
Experience the electrifying performance of the Renault Clio for yourself. Take advantage of our amazing new car prices and exclusive savings at UK Car Discount. Find New Car Deals to explore our latest Renault Clio offers.
Ready to make the switch to a new car? The Renault Clio is waiting for you. Act now and enjoy immediate delivery of a brand-new Renault Clio featuring the latest 73 Registration Plate. Stocks are limited, so Check New Car Offers here to secure your New Renault Clio today!
Why settle for less when you can have the best? Join the thousands of satisfied UK car buyers who found their perfect vehicle with us. Check New Car Prices here to start your car-buying journey with UK Car Discount today!
Ready to upgrade your driving experience with a new Renault Clio? Call us now on 0161 946 3500. Don't wait; your new Clio is just a phone call away.
Buy a New Car from UK Car Discount or Call for our latest Discounts
The UK Car Discount Advantage
When you purchase your New Car with UK Car Discount, you choose excellence from start to finish. Our commitment to providing quality and customer satisfaction is unwavering. Here's what sets us apart:
Making the Right Choice
Selecting your perfect New Car involves aligning your lifestyle, preferences, and budget. Our website allows you to choose and build the exact car you want. Call UK Car Discount at 0161 946 3500 for a first-hand experience of each model and make an informed decision. Your perfect New Car awaits.
Please note vehicle specifications, trim levels, options, and engines are subject to change anytime. Therefore, confirming the vehicle specifications you are interested in when you purchase is essential. Vehicle manufacturers also reserve the right to change specifications without notice.