New Vauxhall Astra Sports Tourer Police Car
Published Date: 23rd Apr 2013
Vauxhall is the number one supplier to police fleets with a reported 70% market share and they've hit the mark again with a new 2013 Vauxhall Astra Sports Tourer which has won a challenge set by the Association of Chief Police Officers (ACPO) to find a way of equipping a Police car with an extensive range of future state-of-the-art policing technology.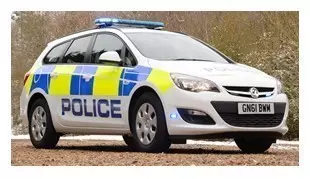 The British-built Astra Sports Tourer was equipped with everything police officers could want from a mobile police unit including three computers armed with forensics and face-recognition technology. Several cutting-edge cameras record outside activity – scanning potential suspect's faces out on the streets and inside the vehicle. Drivers in the field also benefit from up to an extra two hours in the field thanks to the high speed broadband that is on-board.
Video footage, CCTV for example, can be downloaded and streamed on-the-move and uploaded to a central crime database and cutting edge on-board technology allows officers to compress the video files whilst on the go.
Further technology includes a state-of-the-art 'black box' usually found on aircraft which records information such as mpg, speed and location of the vehicle, officers will be able to dock specially designed, rugged laptops and Smartphone's with the system and with 3G connectivity crime scene/witnessing photography is recorded and uploaded to a central system on the move too. If that isn't impressive enough the system is even equipped with a 'smart' system that shows current and future predicted crime hot spots..
This specially equipped new Vauxhall Astra Sports Tourer is said to exceed the original requirements set out by the police in order to produce a vehicle that enables officers to spend much more time active and out in the field fighting crime rather than sat at their desk back at HQ crunching paperwork.
If you're looking a new Vauxhall Astra cut price deal contact UK Car Discount on 0161 946 3500 we have many deals available and can usually save you £1000s off the list price of a new Vauxhall car..