New 14 Plate VW Golf R Order Books Open
Published Date: 3rd Dec 2013
The new Golf R features an improved version of the 4 cylinder 2.0 TSi turbo engine used by the VW Golf GTi model.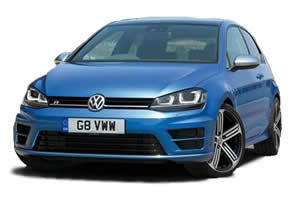 The new engine outputs 300PS and has undergone several modifications including an updated cylinder head, exhaust valves, valve seats/springs, pistons, injection valves and turbocharger. The vehicle is also 45kg lighter than the outgoing model.
The new improved engine helps propel the new 14 plate VW Golf R from 0-62mph as fast as 5.3 seconds, an improvement of 0.4 seconds on its predecessor according to official figures. Top speed is 155mph with a limiter keeping the vehicle within its self.
Despite the increase in power and speed the new VW Golf R is significantly more efficient than the outgoing Golf R with a fuel economy of up to almost 40mpg on DSG models and CO2 emissions of 159g/km. VW claim it is 18% more efficient than its predecessor.
The R is equipped with ESC Sport mode (found on new Golf GTI and GTD models), which delays intervention of the electronic stability control system, different to the GTI and GTD models though the R offers improvements with the option to fully disable the ESC, for track driving. Like the Golf GTI and GTD, the Golf R is equipped with progressive steering, which reduces the number of turns lock to lock to just 2.1, from 2.75.
The Golf R features 18 inch VW 'Cadiz' alloy wheels with an option of 19 inch 'Pretoria' alloy wheel available. At the front there is a new bumper and grille featuring the 'R' badge'. There are also bespoke body coloured side sills and chrome detail door mirrors.
Inside the Golf R features cloth alcantara seats with leather available as an option, the R also gets it own bespoke instrument panel.