Hot new 2017 Renault Megane GT dCi 165
Published Date: 6th Jun 2017
Developed with Renault Sport the 2017 Megane GT dCi 165 has a newly developed 1.6 litre, with four cylinders and twin turbochargers that increase the power output up to 165bhp. The sporty new diesel variant GT Nav is available to order now in the hatchback and estate versions.
The powerful but small diesel 1.6 litre still manages to produce 380NM of torque that starts from 1750rpm and manages 133mph. The hatchback will always be a little bit quicker out of the two available and manages 0-62mph in 8.8 seconds with the Sport Tourer coming in at 8.9 seconds.
The new 2017 Renault Megane Diesel GT 165
With the new GT being diesel you get a great combination of raw power when you need it and solid fuel economy figures. Renault says the hatchback will do 61.4 mpg and the larger estate just stays above the 60 mark with 60.4mpg. They both land in the same tax band for the vehicle excise duty with 120g/km and 124g/km for the hatchback and estate, respectively landing in the first year tax band of £160 per year then £140 a year after that.
As with the petrol GT Megane the new diesel GT will be available with an EDC automatic gearbox as standard with no option for the traditional manual. The GT is front wheel drive only but has clever four wheel steering that forms part of the 4 control chassis system this allows on the fly adjustment of the rear wheels calculated up to 100 times per second, altering the turning angle depending on how fast the car is going. The ride and comfort are further enhanced through Renault Sports select choice of specific springs, dampers and anti roll bars.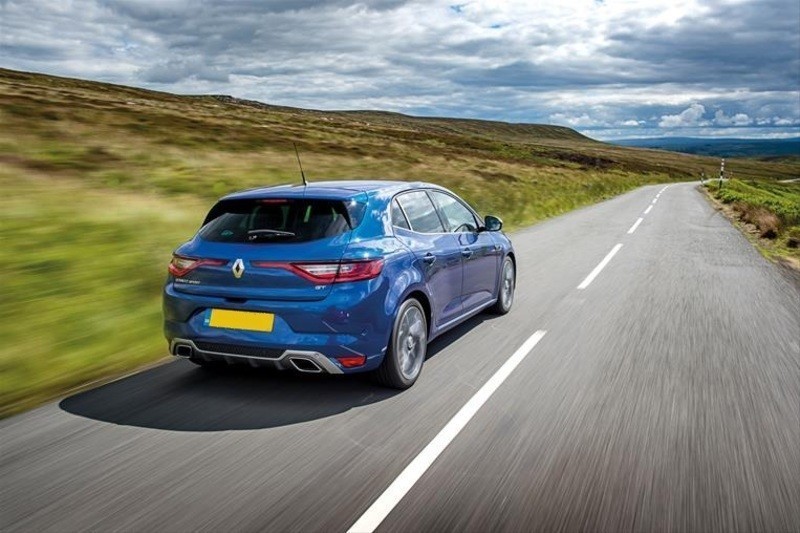 The exterior design elements remain the same as the petrol GT version, the same sporty rear diffuser and large exhaust pipes with a wider front bumper, honeycomb grille and 18 inch alloys. On the inside Renault sport seats offer greater lateral support from the seat base and back with Renault Sport scuff plates. Exclusive iron blue paint is available on the GT and GT line models.
The new 2017 Megane Diesel 165 GT is available to order now ready for the new 67 plate in September, see all of our Renault Megane discounts