How To Cut Car Related Costs During Lockdown
Published Date: 19th Mar 2021
A lot of people have been using their car much less during lockdown and if fact there has been a general trend of people driving less, statistics say on average 20% less than 20 years ago.
If you are working from home and your car is spending most of the time in the garage or parked on the drive, your related costs may feel like money for nothing, so here are a few tips and ideas that may help you reduce vehicle related costs.
Don't Forget Maintenance
If your car is not being used there are still some maintenance considerations. Moving parts need use and lubrication, the battery can drain, and your tyres can blackspot when the car remains unused for prolonged periods.
We wrote an in-depth article on car maintenance tips during lockdown here.
Get Pay Per Mile Car Insurance
If your insurance policy is due for renewal consider a pay per mile service, the RAC's new pay-per-mile car insurance charges you monthly and only for the miles you cover, you are not locked into a 12-month contract either, just a rolling monthly one. The service represents an extremely attractive option for those who continue to work from home and have had little use for their car.
Get Some Money Back From Your Current Insurer
If you are tied into a yearlong policy which you cannot cancel without penalties, contact your current insurer, and explain your situation. If you are working from home your mileage will most likely be much lower than what you declared when signing up for the policy.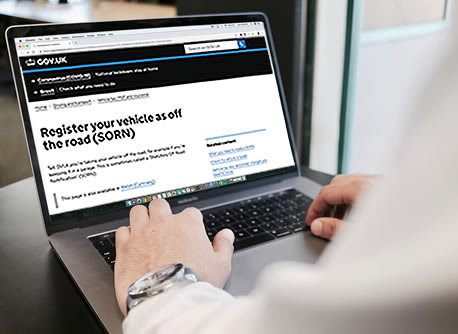 Each insurer will have their own policy, but if you ask, they may adjust your premium to reflect the reduced mileage, a recent survey revealed only 1 in 5 drivers had received a rebate due to COVID related reduced mileage. Admiral, LV, Aviva, Sheilas' Wheels, Hasings and Direct Line with their Mileage Moneyback scheme are amongst some of the insurers offering mileage refunds.
Declare Your Car Off-Road (Statutory Off-Road Notification or SORN)
If you have literally no use for your car right now you can declare it off road, this is called SORN (statutory off-road notification), which can be done via the DVLA website. If you are paying your road tax by direct debit it will be paused or if you paid upfront, you will be eligible for a refund for the remaining term.
A couple of things to remember if you do this; off road means just that if you declare your vehicle off road it will need to be on private property, for example parked on your drive or in a garage, it will be illegal to park it on a public road. Secondly, if you drive the car while it has been declared off-road you will be breaking the law, consider emergencies for example. SORN might be ideal when you have more than one vehicle in the household, all getting little use.