Peugeot 3008 Named Car of the Year for 2017
Published Date: 15th Apr 2017
The new Peugeot 3008 SUV was been named the 2017 'Car of the Year' at the Geneva Motor Show by 58 European journalists.
The new 3008 SUV managed to impress judges with its combination of interior cabin design, style and performance. This great trophy joins the 20 other honors the new 3008 SUV has already won since its launch at the beginning of 2017. The 3008 is the fifth car from Peugeot to win this award and the first SUV/Crossover to be given this accolade. The French car maker's success in this award goes way back to 1969, when the then new 504 saloon won the award.
A Peugeot 3008 Revolution
The Latest Peugeot 3008 makes a big jump in technology with its state of the art PEUGEOT i-Cockpit® interior layout that offers a more intuitive and engaging driver experience, complete with a new multi-function steering wheel, 12.3" head-up digital instrument cluster display and an 8.0" touchscreen which is wrapped with stylish satin chrome and piano key toggles. Peugeot has also given the new 3008 a number of new driving aids and other high-tech gadgets, as well as seamless connectivity. Almost 100,000 customers have already ordered the new 3008 SUV/Crossover in Europe and 84% have gone for the Allure, GT Line or GT trim models.
img src="/img/news/2017/apr/3008-2.jpg" alt="3008 front" />
The 'Car of the Year' prize is awarded by a judging panel of 58 motoring journalists from 22 different countries, and they have been assessing each contender's entry since the start of 2016.
Jean-Philippe Imparato, CEO of the peugeot brand, said: "I am particularly proud and very pleased that the all-new PEUGEOT 3008 SUV has just won the 2017 'Car of the Year' prize. This trophy is the culmination of five years of incredible work by the brand's teams and our group."
Peugeot Flagship Engines for the New 3008
Blue HDi
The all-new PEUGEOT 3008 SUV's BlueHDi Euro 6 diesel engines combine high performance and reduced emissions. With an exclusive combination of SCR (Selective Catalytic Reduction) and an additive DPF (Diesel Particulate Filter), BlueHDi engines reduce fuel consumption while restricting emissions to between 103 and 124 g/km of CO2, reducing the emission of nitrogen oxides (NOx) by up to 90% and eliminating 99.9% of fine particles. The Blue HDi engine is available in 100hp, 120hp, 150hp and 180hp outputs dependent on trim level.
PureTech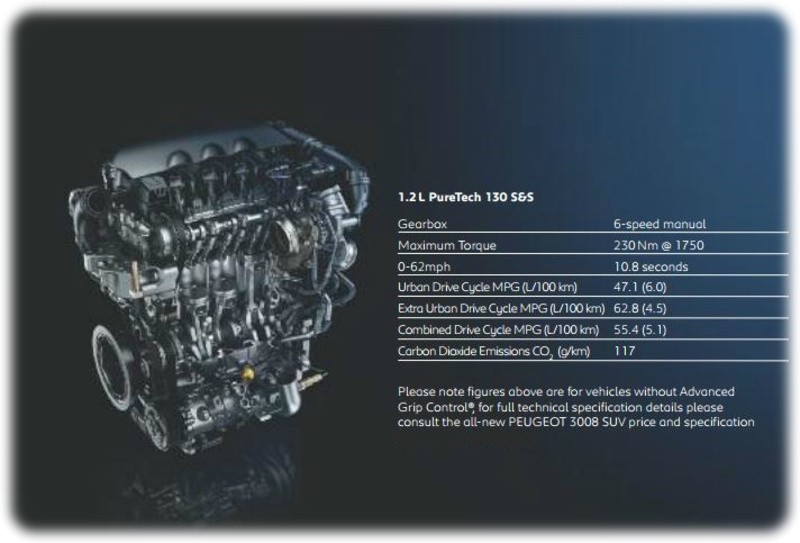 The all-new PEUGEOT 3008 SUV's 3-cylinder PureTech Euro 6 petrol engines are more efficient thanks to their reduced weight and size. They give you a unique driving pleasure and high-level performance, without compromising on reliability and robustness. The 1.2-litre PureTech 130 S&S engine was voted Engine of the Year 2015 and 2016 in its category. It displays emissions from 117 g/km of CO2 and it can be combined with the new EAT6 automatic gearbox.