Nissan Pulsar Nismo on show in Paris
Published Date: 8th Oct 2014
Nissan have already developed a Nismo version of the new Pulsar and it was on show at the 2014 Paris Motorshow
We have some pics and news exclusively from the 2014 Paris Motorshow. There were many new production and concept cars on show in Paris, but for us the new Pulsar Nismo was one of the stand-out cars, attracting a lot of attention and many admirers.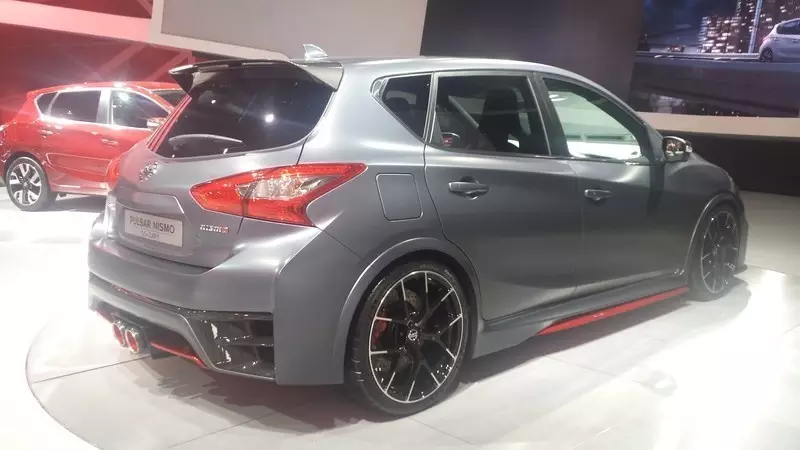 Nissan Pulsar Nismo Design
This Nismo tuned super hot-hatch has the looks to make it's rivals mad with jealousy.The Nismo Pulsar has a very serious looking front-end, a sweeping design and red inserts to compliment the cool grey metallic paint finish.
This new Nismo version of the Nissan Pulsar makes the production model look pretty boring. It has lowered supension, a low sitting body kit to improve aerodynamics and supremely prominent 19" alloy wheels.
Inside the cabin will be a racing theme, with Nismo logos dotted all around the seats, dashboard and steering wheel. Alcantara is expected to be the standard interior, with a premium leather option also available.
Nissan Pulsar Nismo Engine
The Pulsar Nismo will feature a 1.6 litre four-cylinder turbo engine, capable of 247 bhp through its two-wheel-drive system. A 275 bhp engine is expected to feature in an Nismo RS version of the Pulsar in the coming years.
Although its just a rumour at the moment , the Pulsar Nismo RS would be the next logical step if this Nismo version goes well. An RS version will most likely feature a 4WD system to put the power down easier, with race, eco and normal modes to make this car fully customisable for the driver's needs.