New Mercedes B-Class facelift
Published Date: 23rd Sep 2014
The next Generation Mercedes B-Class gets a facelift, more technology and an updated engine range
The German car-maker has given the second generation B-Class a new refresh, including tweaked looks, more in-car technology and a much revised engine range. It's on sale now, and will be hitting showrooms in November, with prices set to start at £22,575.
With new efficiency improvements, there's now a wider choice of engines, with the B200 petrol variant joining the range. Unlike the equivalent CDI diesel, this is front wheel drive online, and its 1.6-litre four-cylinder engine produces 154bhp and 250Nm of torque – producing figures of 8.4 seconds 0-62mph and 136mph top speed.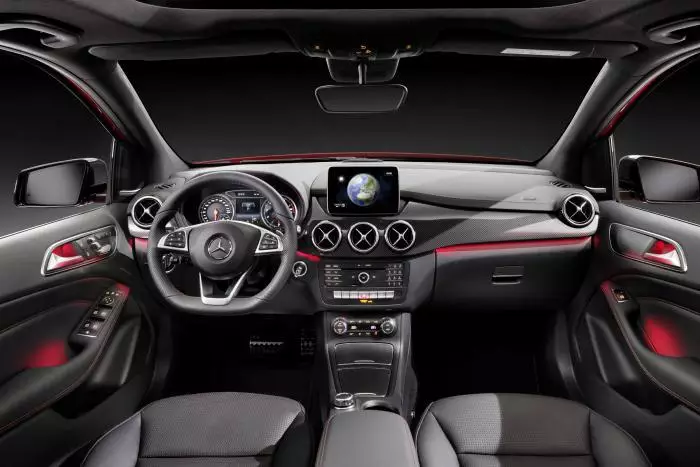 This is synced to the six-speed manual gearbox as standard, in which 50.4mpg and 130g/km CO2 is apparently possible, while the optional seven-speed automatic will hit 52.3mpg and 125g/km. The long-awaited B-Class Electric Drive plug-in is also on the way, although cars won't be available until next year.
At a glance this new B-Class doesn't look to have changed much on the surface, but there's a new front bumper, complete with larger intakes, plus integrated LED daytime running lights. Round the back Mercedes has modified the rear bumper slightly as well.
When looking inside, the all-new B-Class benefits from a larger, 8-inch central display – paired to improve graphics – and modernised dials, as well as a vast choice of ambient lighting colour schemes. Customers can also opt for Keyless Go for easier access and ignition, and COMAND Online now provides the latest traffic updates.
The new 'Mercedes connect me' system is also available, too, and can provide accident recovery, service maintenance and incident management. Special Remote Online equipment, meanwhile, enables owners to connect with their B-Class anywhere via smartphone, making it easy to check info like fuel levels, or else schedule preheating or precooling. When the Electric drive B-Class arrives in 2015, this tech will provide current charging level and vehicle range details.
On the safety front, the improved B-Class gets new and enhanced passive and active assistance, such as Collision Prevention Assist Plus, which adds autonomous partial braking to reduce the risk of rear-end impacts. The standard-fit Attention Assist feature gets an extended operating range – from 37mph to 124mph – and uses a five-stage meter to represent the driver's current attention level.