New Ford Focus Active | Active X SUV Review
Published Date: 25th Feb 2019
The new Ford Focus Active and Active X models are Ford's 5 door variants of Britain's best-selling family hatchback, combining all that's' loved about the Ford Focus Hatchback with Crossover/Compact SUV features. Also new are the Focus Active Estate models, again jacked up/SUV like versions of the traditional Focus Estate models.
Ford Focus Active & Active X Exterior Styling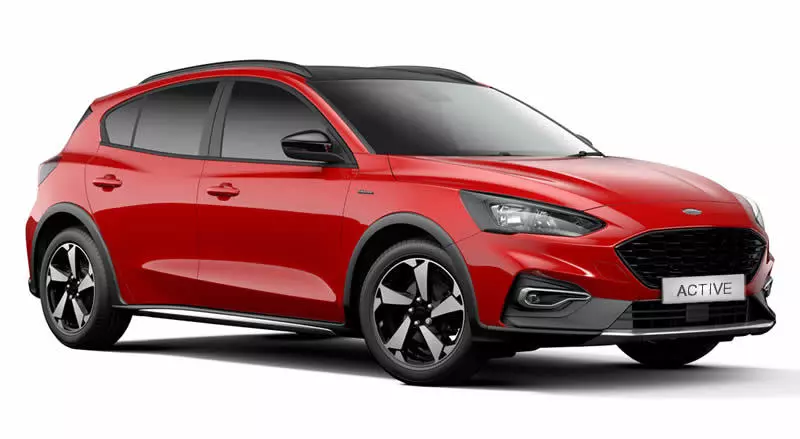 The new Crossover-inspired Focus Active and ActiveX models feature a ramped-up driving position (largely due to the updated suspension/chassis and higher-profile tyres), more rugged 'meatier' front and rear bumpers, front and rear skid plates, moulded/protective black plastic wheel arches/sills and roof rails. Higher-grade Active X models get a panoramic sunroof as standard.
Ford Focus Active & Active X Interior
Inside the Active/Active X models the most obvious change is the higher driving position when you're sat in the driver's seat, there's also a bit more room in the cabin too due the 5cm longer wheelbase and there's more head and leg-room in both the front and rear.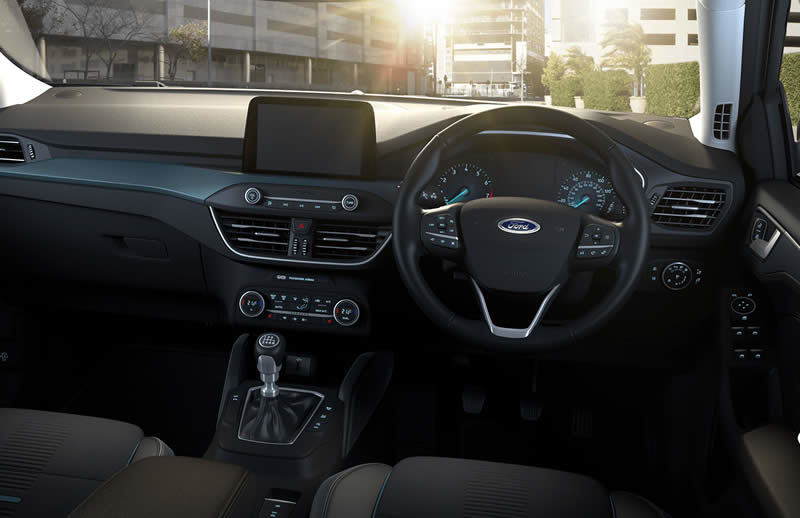 The Active model shares a lot of familiar features of the traditional Focus, however the dashboard does get a makeover with a sleeker design.
There's also an electronic parking brake and on 8-speed automatic transmission models a rotary dial for gear shifting both free up additional space in the cabin making it feel very spacious.
Active & Active X Drive-Modes
Although the new Active doesn't come with an all-wheel-drive option, the SUV features go beyond aesthetics, the revised/jacked up suspension and meatier tyres have practical uses for tackling more demanding terrain and Ford have also added two new interesting drive modes; 'slippery' and 'trail'.
The two new drive modes use a combination of ESC (Electronic Stability Control) to counteract over or under steer, traction control which can aid grip/down-force and ABS to prevent lock-ups.
Slippery mode is designed for very wet conditions or snow/ice whilst the trail mode is designed to tackle heavier, more off road-like terrain.
The Focus Active models also have all other bases covered, whether you want to keep running costs low, experience a more exciting ride or just cruise comfortably on the motorway, with additional drive modes that include: Normal, ECO, Sport, Comfort and Eco-Comfort.
Active & Active X Engine Options
Engine options are fairly straight forward with the Active and Active X models, there's a choice of two petrol EcoBoost engines and two EcoBlue diesel engines. All engines are available with the 6-speed manual gearbox or the 8-speed automatic transmission.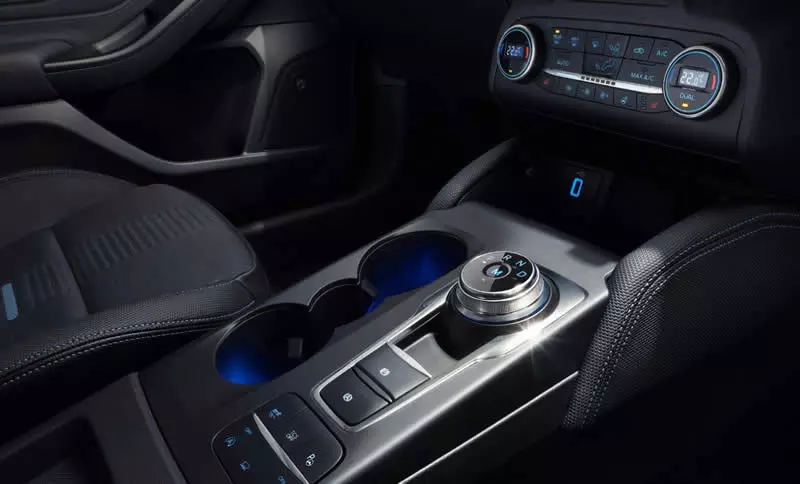 The petrol options will be the most popular featuring Ford's multi-award winning EcoBoost technology. The most frugal is the 1.0 EcoBoost (125PS), equipped with the manual transmission CO2 emission are 107-11g.km (depending on your configuration) and combined fuel economy is around 58mpg. It's a perfect choice for people doing a lot of around town driving it still feels punchy enough (0-62mph around 10.5 seconds).
If you prefer a petrol model and the 1.0 EcoBoost doesn't pack enough of a punch for you there's the 1.5 EcoBoost (150PS), running costs are still decent with combined fuel economy figures of around 53mpg and CO2 emissions of 126-132g/km (based on manual transmission). It's the better option if you frequently travel with a full load of passengers or do a lot of motorway driving.
The two diesel options are the 1.5 (120PS) or 2.0 (150PS) EcoBlue units, they pack a lot more torque (300 and 370nM respectively). If you plan on towing or carrying heavy loads these will be worth looking at. The 1.5 is great for low running costs with combined fuel economy at 80mpg and emissions under 100g/km.
Ford Focus Active Trim-Level
The new Crossover-inspired Focus comes in two trim-levels the Ford Focus Active which bears a strong resemblance to the Zetec Hatchback model in terms of equipment and tech with a few added extras like sat nav and push button engine start.
With the Active 5 door model you get 17-inch alloy wheels, rear privacy glass, front LED fog lights with cornering, automatic headlights, electrically operated and heated folding mirrors, 'Quickclear' heated windscreen and heated washer jets.
Inside is well-equipped with the 8-inch touchscreen/infotainment system (with Ford SYNC 3, DAB radio, sat nav, Bluetooth, Apple CarPlay, Android Auto and voice control), there's also a 4.2-inch TFT instrument cluster, push button engine start, front/rear electric windows and air con.
Driver aids include cruise control with speed limiter, lane keep assistant, tyre pressure monitoring, hill start assist, electronic parking brake, pre-collision assist with autonomous emergency braking, pedestrian/cyclist detection plus selectable drive modes.
Ford Focus Active X Trim-Level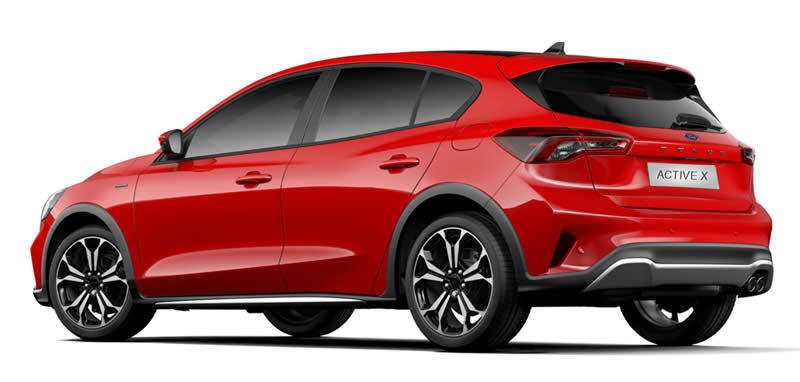 The Ford Focus Active X model packs just about all the bells and whistles and it adds/improves on the Active model with 18-inch alloy wheels, panoramic sunroof (at the expense of roof rails on 5-door models), power folding door mirrors, automatic windscreen wipers, front/rear parking sensor and keyless entry.
Inside there's part-leather upholstery, dual zone climate control, heated front seats, auto-dimming rear-view mirror and an electrically adjustable driver's seat.
With ever-increasing demand for SUV and Crossover like vehicles, a car that takes a a lot of influence from Britain's best-selling family hatchback and combines it with popular SUV-like features can only be a good thing, it doesn't go the full-hog as a SUV vehicle, but it should have mass appeal.
Order books are open now for the new Ford Focus Active and Active X models.