New Car News from CES 2017
Published Date: 9th Jan 2017
The Show was once a showcase of consumer home electronics like Computers and Televisions but now with every new car being more and more technologically advanced, most of the big car manufacturers now show up displaying their latest innovations on four wheels.
Held at the Las Vegas Convention Centre between the 5th and 8th of January 2017 saw the show turn into a mini motor show with all the major players displaying the latest advancements in car connectivity, Artificial intelligence and autonomous driving.
AUDI AND NVIDIA TEAM UP FOR A NEW AUTONOMOUS CAR
Nvidia turned up to CES last year to announce their interest in the future of autonomous driving and brought along a very powerful deep learning computer called the PX 2. Audi has now took them up on that front and are working very closely with Nvidia and aim to have the smartest self driving cars on the road by 2020.
The newest of the deep learning super computers is now called Xavier and will not only monitor what's happening on the road but also the driver with facial recognition, head and eye tracking and alert the driver to keep their eyes on the road.
BMW at CES
BMW came with yet more advancements of the HoloActive cockpit concept from the previous year of the show. Displaying how they can use gesture control and a futuristic holographic windscreen head up display to control infotainment features
They also brought a completely autonomous all new 5-series to the show that was available rides around the convention centre, showcasing their own advances in self driving cars.
Fiat Chrysler
We found that Fiat Chrysler is currently in partnership with google earlier in last year and now they've created the Portal concept. An all electric family car of the future and as said by Fiat Chrysler it is designed "by millenials for millenials".
The car features a 250 mile range and no B pillar for easy access for all through two sliding doors. A futuristic steering wheel that will retract into the dash when in self driving mode is also a nice feature.
Ford
Ford announced a total of seven electric or hybrid vehicles that will be released over the next five years. The popular Mustang and F-150 pickup will receive the hybrid treatment and an all electric SUV is planned alongside an autonomous ride sharing vehicle.
They also announced a new smart phone app that will sync with phones to display the navigation on the Ford Sync 3 infotainment system instead of the driver looking at their phone.
Hyundai
Hyundai came to the show with a few new concepts including announcing an all new zero emission Hydrogen powered SUV that we'll get to see at the 2017 Geneva Motor Show. This SUv will be an all new adaptation rather than adopting the Ix-35 that we've previously seen with hydrogen fuel cell technology, where the only by product of the combustion process is water.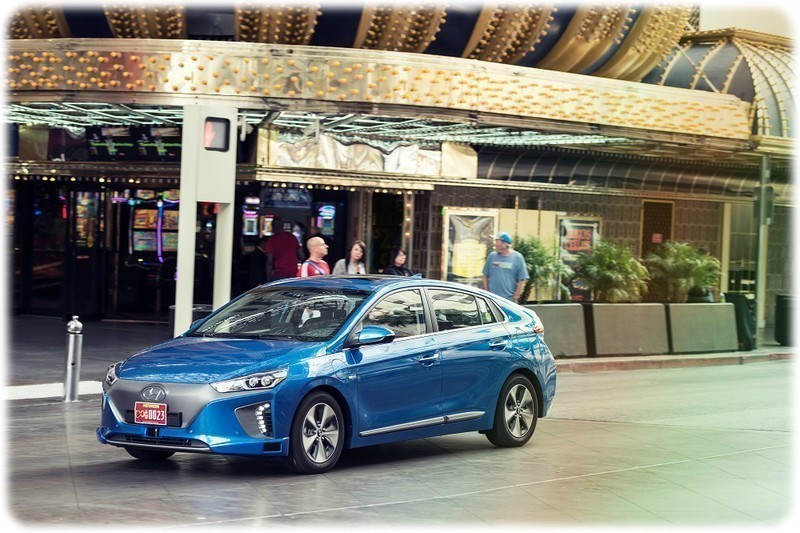 Carrying on with Hyundai they've been playing around with a concept that can reduce the stress and road rage that can be experienced on today's roads called the Hyundai Healthcare concept. It will monitor the drivers biometric data and react to the situation by adjusting lighting levels, seating, sound and even scent to create a more calming environment in the cabin.
Hyundai were another company to bring an autonomous car to the show and offer rides around Las Vegas in their new electric Ioniq.
Peugeot-Citroen
Garmin and Peugeot-Citroen have been working together to incorporate dash cam recordings into their vehicles as standard and help reduce insurance premiums for their owners. The 2017 Citroen C3 already features ConnectedCAM technology as standard and plans to introduce the technology across the range.
The camera is used for the safety systems on the car like forward collision braking assist as well as being able to record footage to an SD card that can be used in the event of a collision/accident.