2021 Best New Car Deals
Published Date: 5th Aug 2021
Looking for a new car for 2021? Here are our top 12 recommended deals, covering everything from small city cars to large SUVs.
2021 Best New Car Deals (Top 12):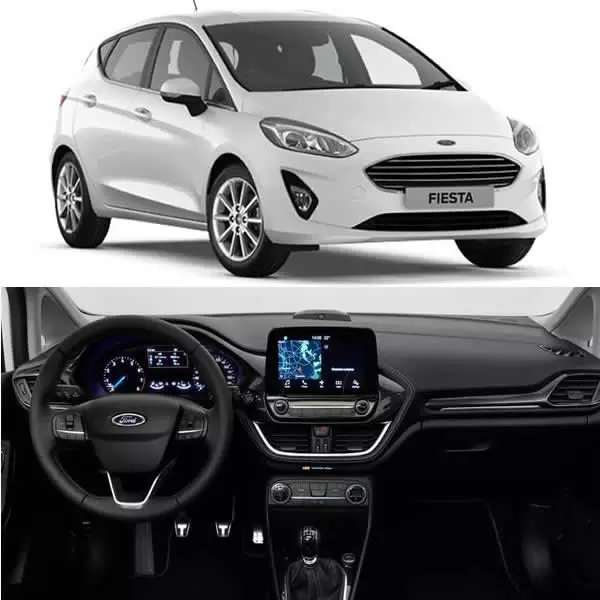 2021 Ford Fiesta - The UK's Favourite Small Car
The Ford Fiesta is the UK's best-selling new car and the UK's favourite small car, offering a wide variety of options and trim-levels. From low-cost models offering excellent running costs to plush top of the range Vignale models, there is something for everyone and the Fiesta is also one of the most fun cars to drive.
If you prefer a sportier model you can pair an ST-Line or ST-Line X model with the most powerful EcoBoost petrol engine or if you prefer the full hot hatch experience you can choose an ST model.
The Fiesta range also includes the Active and Active X models which are essentially 'jacked-up' crossover versions of the standard Fiesta, offering a higher driving position, larger tyres SUV-like exterior styling, including chunkier bumpers and moulded wheel arches.
The Active models also get additional drive modes to tackle more demanding driving & weather conditions.
For those looking to purchase a standard Fiesta Hatchback with good levels of equipment the Titanium or Titanium X Edition trim-levels are likely to be a particularly good fit. The new range of EcoBoost petrol engines featuring mild hybrid technology are also excellent option too.
Compare all Ford Fiesta models and deals here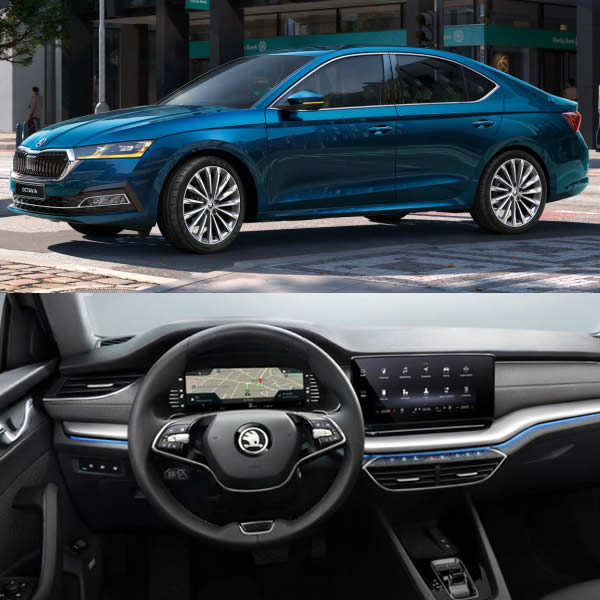 2021 Skoda Octavia - Spacious Hatchback & Estate With Excellent Interior
Look for a stylish and spacious mid-sized hatchback?
The Skoda Octavia is a good bet, and it is so spacious in fact that is in direct with competition vehicles in the large hatchback segment. If you need more storage room, there is also an estate version to boot (no pun intended).
The latest MK4 Octavia continues a trend with the Octavia of getting bigger, it offers both more cabin space and a bigger boot than its predecessor.
Despite the increased interior space, the new Octavia boasts sleeker/sportier looks with a roofline that slopes downwards to the rear offering a more coupe-like appearance.
Inside sees a bigger touchscreen/upgraded tech and a general improvement in build quality and finish which gives the Octavia an executive feel.
There are also a new levels of driver aids and technology, bringing semi-autonomous levels of driving assistance to the Octavia. New tech includes a collision avoidance aid, predictive cruise control and technology that can take control of steering in various scenarios to avoid a negative outcome.
We have written a more in-depth review of the all-new MK4 Skoda Octavia here.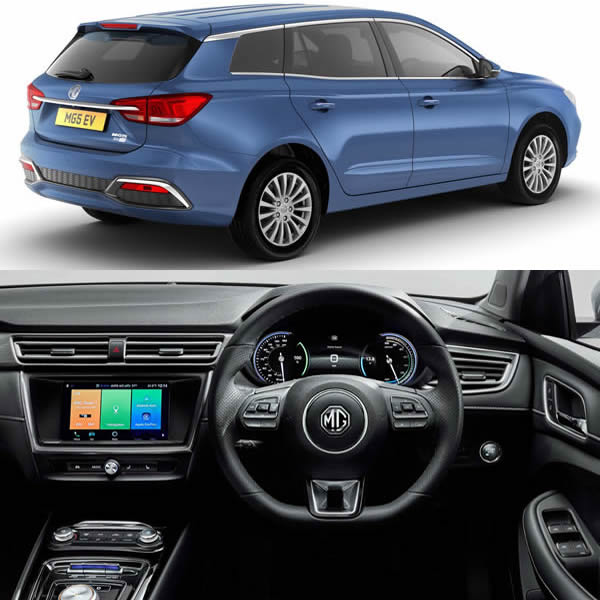 2021 MG5 EV Estate - An Extremely Affordable and Spacious Full Electric Car
If you are in the market for and have been researching large full electric cars, you will be aware that they can get expensive when compared with their petrol or diesel counterpart.
This is where the new MG5 EV Estate comes into a league almost of its own, offering an affordable, full electric spacious estate car.
At the time of writing this article and with current discounts you can pick up an entry-level Excite model for up for under £21,000. It is a well-equipped entry-level model too, inside there's aircon, 8-inch colour touchscreen infotainment system with integrated navigation/Android Auto/Apple CarPlay and part digital driver display.
All the essential driver aids are covered too including a rear-view camera and rear parking sensors.
The top of the range Exclusive model can currently be purchased for £23,500, it offers additional comforts and luxuries like part leather interior, automatic air con and heated front seats.
The MG5 EV offers a range of 214 miles (combined figures), while MG say you could get a range of up to 277 miles around town/at lower speeds. You can also get an 80% charge in just 50 minutes when hooked up to a fast 50kW charger.
You can read more about the new 2021 MG5 EV Estate here.
2021 Renault Zoe - An Affordable Full Electric Car
The Zoe is Renault's small full electric car, and it is one of the most affordable EV cars available right now and selling in big numbers across Europe. Considering the government plug-in grants and additional discounts you could save up to £9000 off list prices. Renault have also teamed with Chargemaster so that every person who buys a brand new Zoe can have a 7kW charger supplied and fitted at their home free of charge.
The latest Renault Zoe boasts a range of up to 245 miles and faster charging (optional extra or standard on higher grade model) making it much more practical than its predecessors. A new more powerful 'R135' motor available on some models also gives the Zoe a little more 'pep'.
The Zoe is a cool looking little car, and the interior has been improved too with upgraded materials and more soft touch finishes. The latest version also gets Renault's new large portrait touchscreen seen on other Renault models.
If you are looking for a small full electric car, then the Renault Zoe should be a consideration, with current incentives it is extremely affordable and its long range of up to 245 miles makes it very practical.
Compare all Renault Zoe models and deals here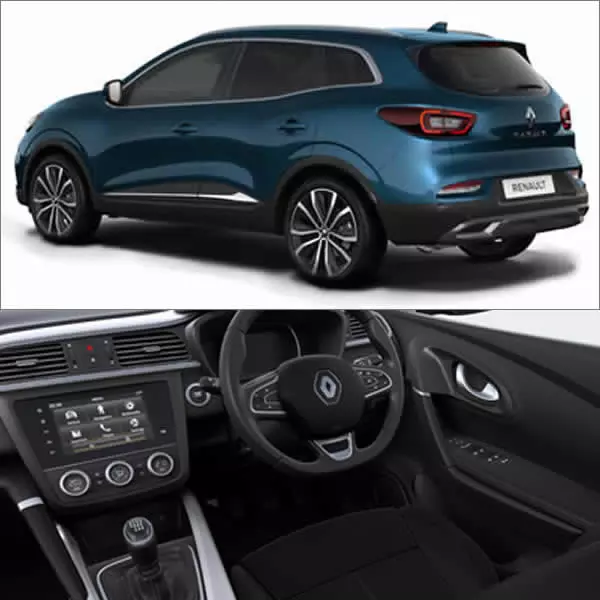 2021 Renault Kadjar - A Well Equipped & Affordable SUV
The Kadjar is Renault's smart looking, mid-sized SUV offering practicality and excellent levels of standard equipment. When comparing similar sized SUVs, you'll be hard pushed to find a rival that can match the Kadjar for affordability.
Thanks to Nissan-Renault alliance the Kadjar is built on the same platform as the Nissan Qashqai and that is no bad thing. The Qashqai has been at the forefront of the rise of the SUV/Crossover vehicle, it is a tried and tested formula.
The Kadjar trim line-up is a simple three -pronged affair, with entry-level Iconic, SE Edition and the top-grade GT Line model.
All models get plenty of tech as standard including front and rear parking sensors, rear-view camera, emergency brake assist and lane departure warning.
Inside all trims get the 7-inch colour touchscreen with navigation, Apple CarPlay/Android Auto support and dual zone climate control.
SE Editions add LED heading/fog lights and auto-dimming rear view mirror. Top-grade GT Line models offer the most luxury and comfort with full leather interior, heated front seats and additional goodies like a premium Bose sound system.
If you are looking for a mid-sized SUV that looks good, is practical, well-equipped and affordable then the Kadjar should definitely be on your shortlist.
Compare all Renault Kadjar models and deals here
2021 Ford Focus - Medium-Sized Hatchback Offering A Wide Range Of Options
The Ford Focus is the UK's best-selling medium sized hatchback offering a ton of options from frugal entry-level models to hot hatch ST models. Like its smaller sibling the Fiesta, there is also an 'Active' Crossover version offering a higher driving position, SUV-inspired rugged exterior styling, and additional drive modes for tackling more challenging driving conditions.
The Crossover Focus comes in three grades the Active, Active X and the new Active X Vignale Edition which is the most luxurious.
Like the Fiesta, the Focus is synonymous with driver satisfaction, it is an excellent car to drive. For those looking for a frugal runner a model equipped with one of the mild hybrid (MHEV) EcoBoost petrol engines is a good choice.
If you are looking for a sportier option, then you can either pair an ST Line model with the most powerful EcoBoost petrol engine or if you budget allows go for a full hot hatch ST model.
Compare all Ford Focus models and deals here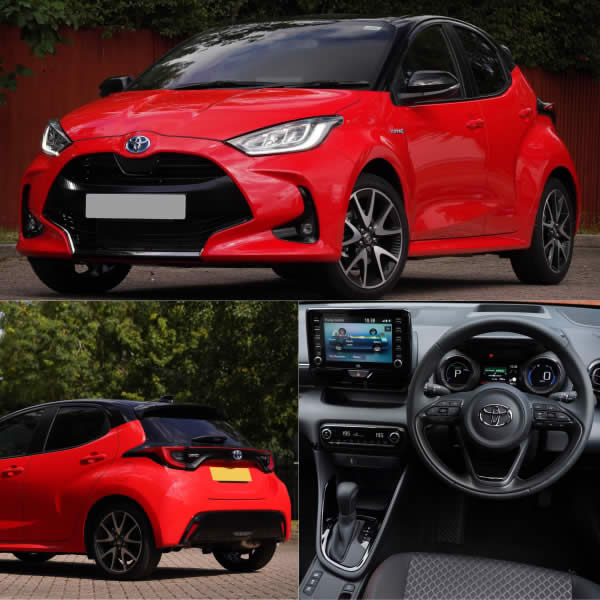 2021 Toyota Yaris Hybrid - A Refined Small Hybrid Car
The Yaris is Toyota's refined small car featured a dedicated hybrid powertrain.
The new Yaris is built on a new GA-B platform and Toyota say it is the safest small car in the world, equipped with a wide range of advanced driver assistance and safety features which are standard across the line-up.
The Yaris is a self-charging hybrid, so if you are not ready for a plug-in and only want to dip your toe into the hybrid car world then it's a great choice.
The new Yaris is cleaner, more efficient than its predecessor, and yet it performs better and has great driver appeal, 0-62mph is around 9.7 seconds, it feels punchy and is great fun to drive.
It a full tax band lower than the old model too, depending on your model and set up, CO2 emissions are aroun 92 - 98g/km of CO2 (WLTP combined) and fuel economy can be up to 70mpg.
The Toyota Yaris is a refined small car, all models are well-equipped, and it offers low running costs.
Compare all Toyota Yaris models and deals here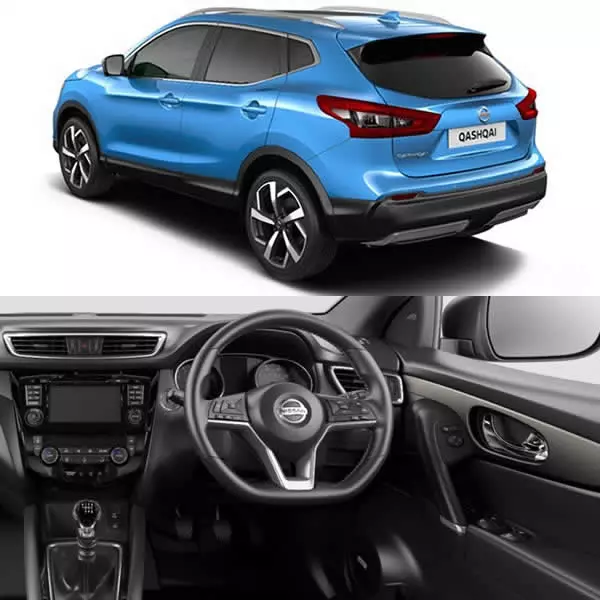 2021 Nissan Qashqai - The UK's Best-Selling SUV/Crossover
The Nissan Qashqai is Britain's best-selling Crossover/SUV vehicle and it is a tried and tested formula.
Built at the UK's biggest car plant in Sunderland, if you buy a Nissan Qashqai, you'll be supporting the UK economy and 1000's of jobs at the plant and down the supply chain.
Like the Renault Kadjar with which it shares the same platform the new Qashqai has a simple three-pronged model line-up.
Entry-level Acenta Premium models are well-equipped with plenty of tech including traffic sign recognition, intelligent emergency braking with pedestrian recognition, lane departure warning and front/rear parking sensors. Inside you get a colour touchscreen with integrated navigation and Android Auto/Apple CarPlay support.
Mid-range N-Connecta models add extra equipment like keyless entry/push button engine start, silver roof rails, rear privacy glass and a 360-degree camera system.
The new top-grade N-Motion model adds additional comfort with heated front seats, electrically adjustable driver's seat and full Nappa leather interior.
One of the things the Qashqai does particularly well is comfort, where many rival SUVs favour a stiffer set up the Qashqai by comparison is soft and comfortable, soaking up the bumps and dips. It should be noted though that if you go for a top-grade model with the larger 19-inch alloy wheels the ride will not be quite as supple.
The Qashqai is a practical, well equipped SUV offering comfort and a tried and tested formula, if you are looking for an affordable mid-sized SUV put it on your shortlist along with the Renault Kadjar.
Compare all Nissan Qashqai specs and deals here
2021 Audi A3 - A Classy Small-Medium Sized Car
If you are in the market for a premium small car, then a new Audi A3 Sportback could be just the ticket.
The latest model gets a more subtle exterior makeover while inside the changes are a little more radical.
Interior build quality is excellent with plenty of soft touch finishes but there has been something of a redesign with a more angular feel and dashes of aluminium-look trim and inserts.
All models now get the much-acclaimed and impressive Audi 10.25-inch 'Virtual Cockpit' digital instrument panel as standard while top grade S Line models can be upgraded to the larger 12.3-inch version. The infotainment system is excellent too, with 10.1-inch colour touchscreen and integrated navigation. All models get pre-sense front with pedestrian recognition, pre-sense is Audi's name for automatic emergency braking.
You can choose your A3 trim level and add packs to build your ideal spec, for example the Comfort and Sound pack adds a number of additional driving aids like parking assist, heated front seats and a premium B&O sound system.
With some attractive discounts the Audi A3 is an extremely attractive proposition if you are in the market for a small car with a premium badge and interior to match.
Compare all Audi A3 models and deals here
2021 Peugeot 5008 - SUV With Premium Interior & 7 Seats
Are you in the market for a larger SUV, do you need 7-seats or would you like a premium interior without paying the high price of a premium brand? The Peugeot 5008 could be the very car for you.
All models get an impressive digital driver display as standard, lower grade models get an 8-inch touchscreen infotainment system, there is no integrated sat nav but you do get Android Auto and Apple CarPlay support, so you can easily use your favourite navigation app from your phone.
Move up to the Allure trim (our recommendation) and you get the larger 10-inch touchscreen with a sharper picture, it also comes with integrated navigation.
The interior has an excellent mix of a high-tech and classy feel, there are plenty of soft touch materials and chrome trim that really works and given its price point you can't fail to be impressed with the 5008's interior.
All engines are good, even the 1.2 Puretech petrol engine is surprisingly able and a good choice especially for those doing a lot of around town driving (you might be forgiven for thinking it would be underpowered for such a large car).
Compare all Peugeot 5008 specs and deals here
2021 Ford Puma - A Cool Compact SUV-Inspired Crossover
Are you looking for a car that offers a higher driving position, is immense fun to drive, compact and cool? The Ford Puma could be right up your street.
If you think the name rings a bell, you are right, the Puma was once a sporty coupe in the Ford line-up, the name has been revived but in the form of a compact SUV.
One of Puma's trump cards is its handling and drivability, much like the Fiesta and Focus it delivers driver satisfaction and fun in bundles, it's hard to find a compact SUV that can rival it in this department. You could argue rival compact SUVs like the Nissan juke or Renault Captur offer the same or more appeal aesthetically, but they will struggle to match the Puma's drivability.
All Puma models are well-equipped starting with the Titanium trim which is traditionally a mid-range Ford model. You get plenty of driver tech including automatic emergency braking, cruise control, lane departure warning, automatic high-beam, auto windscreen wipers and rear parking sensors. Inside you get the 8-inch touchscreen with integrated navigation and Electronic Air Temperature Control (EATC).
The ST Line and ST models add sports suspension and additional sports styling including bodykit and interior features like a flat-bottomed steering wheel. A Ford Puma with sports suspension is going to be about the most fun you may ever have in a compact SUV.
The ST Line Vignale is the premium top grade model with additional features like heated front seats and Premium Sensico seats.
Compare all Ford Puma trim-levels, specs and deals here
2021 VW Golf - A Refined Medium Sized Hatchback
The VW Golf is a medium sized hatchback that bridges the gap between what might be deemed the more affordable options like the Ford Focus or Vauxhall Astra, yet it can also be a consideration as an alternative to premium badged options like the Audi A3.
The Golf is one of those cars you can take for granted, yet there is a reason why loyal owners return again and again for a Golf. In short, it does everything very well; comfort, driveability, refinement, safety, it has the full package. The current MK8 Golf has been evolution rather than revolution, everything has been tweaked and improved (why rip apart a tried and tested success story after all).
All models get the 10-inch touchscreen and plenty of driver tech including automatic emergency braking, lane-keeping assistant, driver fatigue alert, traffic sign recognition. Also, included as standard is VW's Car2X which facilitates vehicle to vehicle communication to share information like road conditions, obstacles ahead in the road, thus giving drivers early warning of any potential hazards. The Golf also scored the full 5 stars on NCAP safety tests.
The VW golf makes the perfect family car, the new range of engines are cleaner and more economical so running costs are lower than ever. If you prefer a little more excitement there are models like the GTI and R can get your pulse racing. Whichever model you choose you are getting refinement, reliability and a proven formula.
Compare all VW Golf specs and deals here
Head over to the UK Car Discount homepage and start comparing 1000s of new car deals