New Special Edition Veyron
Published Date: 1st Sep 2014
Bugatti has released another special edition model with the one-off Singapore-bound Veyron 1 of 1 at shown at Pebble Beach.
The total number of different Bugatti Veyron special edition models has now reached more than 25 with this latest Bugatti Veyron, the Veyron Vitesse. Unsurprisingly, the new special edition is a unique one of a kind specified by a customer in Singapore, and was unveiled at the Pebble Beach Concours d-Elegance in California last month.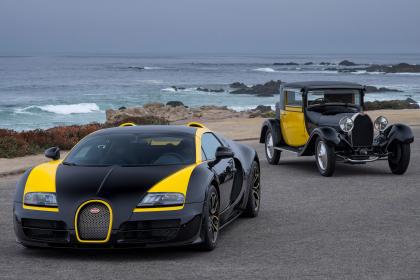 The yellow and black colour combination is a tribute to classic Bugati's like the Type 41 Roytale and Type 55, which were painted black and yellow at the request of the company's founder Ettore Bugatti and his son, Jean, who inspired one of the 'Legendes Edition' Veyron Vitesses. A Bugatti Type 44 is shown in frame with the Veyron 1 of 1 above.
Apart from contrasting clear-coat and top-coated carbon fibre panels, the Veyron 1 of 1 also gets black and yellow grilles, wheels, and the customer's initials laser-cut into the front grille. More than 200 working hours have been logged on the front grille treatment alone.
Inside, the 1 of 1 isn't just a case of black leather and yellow stitching: the door trims feature laser-etched sketches of the Veyron's silhouette, while the door sills are engraved with a portrait of the car's Singapore-based owner. We wonder what effect that strange detail has on this £1.6m car's residual value.
Veyron production is, after a ten-year run, soon to finish at the Molsheim plant in France. During the Veyron's life span, 12 special editions of the hard-top model have been offered, across both the standard 16:4 and monstrous Super Sport variants.
The Grand Sport has also seen 14 special editions models so far, including six different 'Legendes Editions' with the final version revealed also shown at Pebble Beach. Because several of the special edition runs have spawned multiple cars, the total number of 'special edition' Veyrons is believed to be at 80 cars as of now, of the total 400 coupes and convertibles built.
Bugatti is working on more than just new paint finishes. Our spies have already caught a more powerful successor to the iconic quad-turbo W16 supercar testing, in anticipation of a 270mph-plus successor.