New For 2017 The Skoda Octavia vRS facelift
Published Date: 4th Jan 2017
Towards the end of November Skoda announced the new Octavia range for 2017 with promises of an updated vRS model for 2017. Now we have our first peek at the performance large family car available as an estate or saloon.
The New 2017 Skoda Octavia vRS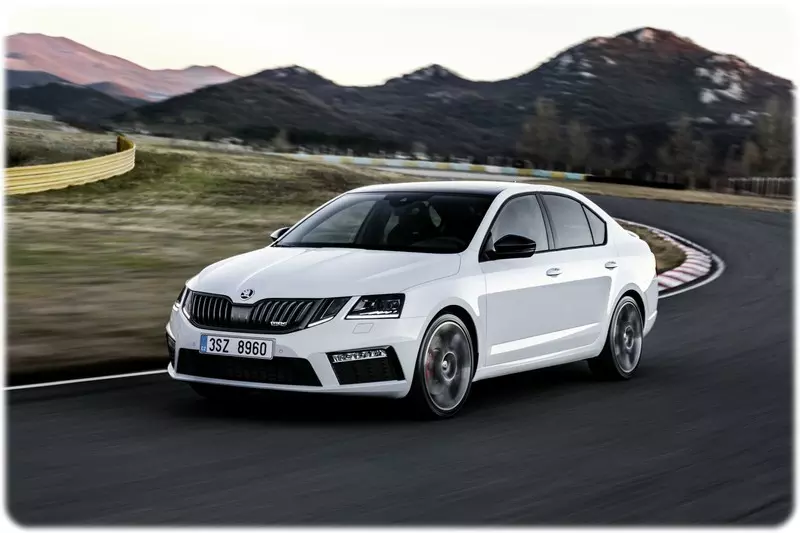 The Ford Focus ST rival has received a redesign with extra technology and a little extra power from the 2.0L TSI.
The Front end has been overhauled and like the regular Octavia a new front split headlight design is present with a wider grille for a more aggressive look. Full LED headlamps with Adaptive front lighting is optional.
The Rear has not had the same level of redesign but features a pair of rear LED light clusters in the classic C shape with LED registration lamp lighting. A newly designed rear diffuser features with a red reflector running in parallel just above.
Skoda has been working hard to improve the overall handling of the vRS with the suspension 15mm lower and the rear track is now 30mm wider than the previous generation. Standard 17-inch alloy wheels that can be upgraded to 18 and 19-inch. The 19's are lightweight alloy wheels available in silver.
The newer more powerful 2.0 TSI provides 230bhp and 350Nm of torque and propels the new vRS to 60mph in just 6.7 seconds. Standard transmission is the six speed manual which the DSG automatic optional.
The Diesel offering is of course the 2.0 TDI with 184bhp which is less than the petrol but more turning power in the form of torque with 380Nm. 0-60 mph is capable in 7.9 seconds and can be front wheel drive six speed manual or automatic with an optional 4x4 version with automatic DSG transmission.
The top line navigation system features a 9.2 inch capacitive touch screen that is the same touch-screen technology found on the latest smart phones of today. A new clever safety feature called Crew Protect Assist will take precautions prior to an imminent collision by closing the windows, sunroof and pre tensions the driver and passenger seat belts.
Full pricing and specification has yet to be announced, but we expect to find out all the exact details including when the order books will open in the coming month.