2021 Nissan Qashqai - A Huge Leap Forward
Published Date: 22nd Feb 2021
New 2021 Nissan Qashqai Represents A Huge Leap Forward
The all-new Nissan Qashqai should hit UK showrooms in the last quarter of 2021, and it will feature new Hybrid powertrains for the first time, more space, restyled looks, and new tech. The all-round new package of upgrades, improvements and new tech represents a huge leap forward for Britain's favourite SUV.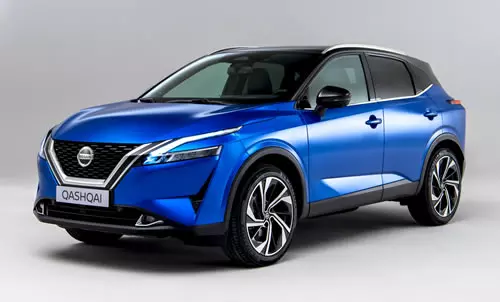 2021 Nissan Qashqai Upgrades, Highlights and What's New:
New restyled exterior offers smarter, coupe-like looks and more customisation options
Interior build quality sees huge leap forward with improved cabin quality and upgraded finish
Touchscreen infotainment system and driver display see huge improvements
New Qashqai gets more cabin space, larger boot and more practicality than ever before
New engine range sees new mild hybrids and unique e-POWER hybrid technology
Nissan's latest driver assistance tech delivers new levels of semi-autonomous driving capabilities
New Premiere edition packed with standard equipment will be available at launch
The Restyled 2021 Nissan Qashqai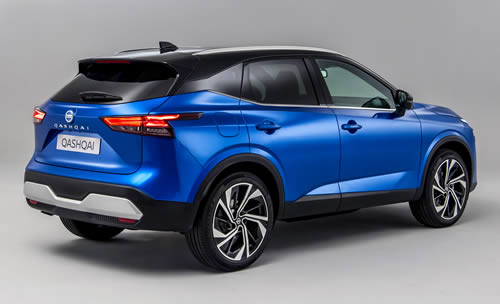 The new redesigned Qashqai is 3.5cm longer and 32cm wider, it features sharper lines and looks sleeker than its predecessor, the longer wheelbase also offers some additional leg room inside.
The roof slopes down towards the tailgate further enhances the sleek appearance giving the new Qashqai much more of a coupe-like look. The new two-tone colour options along with styling packs that add additional chrome features and more paint colours than ever offered before are just some of the improvements and wider choices available. You can choose from a total of 11 paint colours and five of those can be combined with the contrasting roof.
At the front you get Nissan's flagship 'V-Motion grille, albeit a new, redesigned version with new, sleeker angled C-shaped lights.
Alloy wheels range from 17-inch to 20-inch, compared with the largest 19-inch alloys of the old model. It should be noted that the larger 19-inch alloy wheels did tend to stiffen up the Qashqai's supple ride a tad.
2021 Qashqai Gets Much-Improved Interior Build & Much Needed Infotainment Upgrade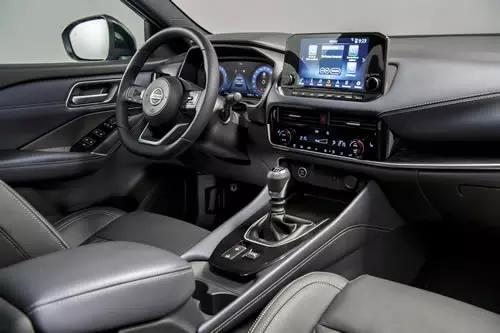 The 2021 Nissan Qashqai will see some big improvements to the interior in terms of build quality/materials and tech upgrades.
Although the Qashqai is still the UK's best-selling and favourite SUV it was beginning to fall behind the competition in some areas, not least in terms of interior quality and an infotainment system that was looking dated in comparison to some competitors.
Interior build quality has taken a significant leap forward, for loyal Qashqai drivers it will be a noticeable upgrade with lots of soft touch and premium feel finishes, higher grade models also get premium 3D quilted Nappa leather seats with massage function.
The new infotainment system represents a big upgrade, with a larger 9-inch screen that is both sharper and much more responsive than the old entertainment system. You get all the trimmings you would expect with a modern vehicle, including Bluetooth, DAB radio and smartphone mirroring with Android Auto/Apple CarPlay There are also both USB-A and USB-C sockets and the option of premium Bose audio on higher grade models.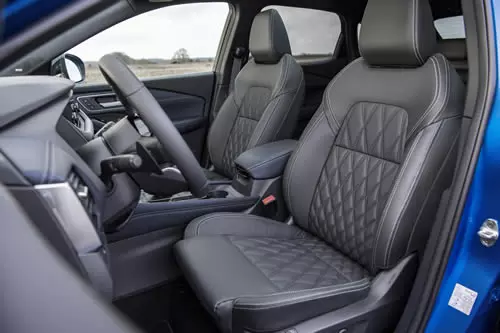 The driver analogue display is also replaced by a vastly superior, customisable 12.3-inch digital driver display which can be set up to the driver's liking via steering wheel mounted controls. Higher grade models also get a class leading 10.8-inch head up display.
The latest Nissan Connected Services also means you get a host of online services and information like live traffic, speed camera information and even Google Street View. Wireless mobile phone charging is also available for supported phones and Nissan say the charging system is faster than the wireless chargers that rival vehicles are equipped with.
The latest NissanConnect technology means you can also access information and control certain features of the vehicle remotely via a companion smartphone app that lets you do things like send a route to the vehicle navigation system and remotely lock/unlock the vehicle and the start the engine, perfect for warming up the vehicle/defrosting on a chilly winter morning.
2021 Qashai Offers More Space and Practicality Than Ever Before
All-round improvements are available for passengers, storage and practicality. The longer wheelbase means there is a tad more leg room for passengers and there are some subtle changes like more storage space in the doors and the relocation of cup holders in the front that previously could 'get in the way' when changing gear is a welcome change.
For those using a child's car seat who are familiar with the difficulties of leaning into the rear of a vehicle to 'fasten in' an infant, Nissan have made things a little easier. The rear doors now open wider (to 85 degrees).
Boot space has taken a leap forward too, the new Qashqai offers a tad over 500 litres which is 74 litres bigger than the outgoing model, it doesn't trump the best in class, but it certainly brings the Qashqai much closer to the segment leaders where boot space is concerned. Further practicality includes boot space lighting, a 12V socket and a false boot floor provides flexible storage options.
Diesel Engine Option Is Dropped As New Era of Hybrid Qashqai's Begins.
In keeping with current trends Nissan have dropped the diesel option, instead you get a revised version of the DIG-T petrol engine with mild hybrid technology available with two power outputs and the new full hybrid e-Power powertrain is the big news.
The new 1.3-litre DIG-T petrol engines with mild hybrid technology offer improved fuel economy and lower CO2 emissions thanks to combination of lighter build materials, new bonding techniques and regeneration technology that 'recycles' energy during braking and coasting.
The all-new Qashqai e-POWER hybrid effectively replaces the diesel option. The e-POWER is a different approach to hybrid driving. The electric motor is used to drive the wheels while the 1.5-litre petrol engine is used like a dedicated onboard charging station to charge the battery. The result is a driving experience much closer to a full electric experience and a smoother delivery of the 184bhp of power without the need to plug-in.
New Levels of Safety Tech & Latest ProPilot Semi-Autonomous Driving Capabilities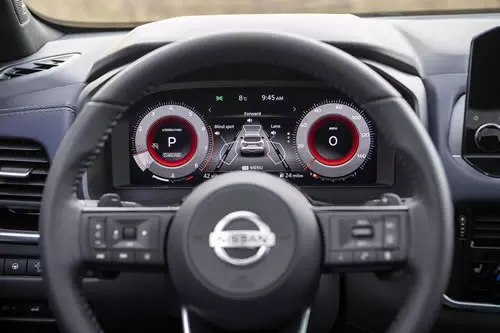 The 2021 Qashqai will see new levels of driver assistance, for those choose a Qashqai equipped with the automatic gearbox Nisan's latest version of ProPilot provides new levels of semi-autonomous driving with a new adaptive cruise control system that uses data to 'read' the ahead and adapt to conditions. The ProPilot system can control steering, brakes and acceleration for several tasks including pulling away automatically in slow moving traffic.
The new, more advanced automatic emergency braking system has been further enhanced. as well as being able to apply the brakes to prevent a forward collision it can also do the same when the driver is reversing into a potential collision. Other features you would expect with an automatic braking system include features like pedestrian detection.
A new Blind Spot Warning system can also take control of the steering to avoid a collision in the event you attempt to switch lanes and a vehicle is in your blind spot.
Radar systems and road sign recognition mean the vehicle can control the speed automatically and read potential hazards while adaptive LED headlights can automatically deactivate and change the shape of the beam with 12 individual components, meaning you won't blind oncoming drivers on dark country lanes.
New Qashqai Premiere Launch Edition
At launch a new Premiere Edition will be available with features like a glass roof and 18-inch diamond cut alloy wheels and two-tone design. It will be available in a number of two-tone colures with black roof including The following body colours are available with a striking black roof including; new blue, pearl grey and pearl white, you calm also choose a black body colour with contrasting grey roof.
The Premiere model will feature an automatic transmission and Nissan's ProPilot with Navi-link semi-autonomous technology. ProPilot uses live information and maps to anticipate the road ahead and adjust to any oncoming potential issues.
The Premiere edition will also feature the new 9-inch infotainment, 12-inch high-definition customisable driver display and class leading 10.8-inch head up display. It also features the advanced LED matrix headlights that can automatically adjust the shape and intensity of the beam to avoid 'blinding' oncoming drivers.
The all-new 2021 Nissan Qashqai should be available to pre order soon with first deliveries to customers expected in the last quarter of 2021. You can contact UK Car Discount on 0161 946 3500 for further information and to be kept in the loop.